Hawaiian Airlines Flight Review.
When it comes to brand loyalty, I'm a Hawaiian Airlines gal – ALL THE WAY.
To give you perspective, over a 13-year period of travel between Australia-Hawaii I've flown on Hawaiian Airlines every flight except three.
I'd estimate that's around 50 international flights with Hawaiian Airlines! My most recent flight was this last January.
In 2009, I started working for Hawaii Tourism in their Sydney office. Our head office was in Honolulu, so I went back and forth A LOT.
And in 2015, I moved to Honolulu! Since then I've been flying to Sydney to visit family multiple times a year (minus the pandemic).
And this count doesn't even include all of the Hawaiian Airlines flights I've taken inter-island or the roundtrips to the U.S. mainland.
The bottom line is, Hawaiian is my top choice for Hawaii travel and I'm about to tell you why it should be yours too 🙂
HAWAIIAN AIRLINES AT A GLANCE:
Hawaii's largest and longest serving airline, flying for 93-years and counting!
An impeccable safety record, Hawaiian Airlines is one of the world's safest airlines.
Ranked #1 among all U.S. carriers for on-time performance for the 18th consecutive year.
Operates Airbus A321NEO and Airbus A330 aircraft, plus Boeing 717 on the inter-island flights.
Provides air transportation between the four major Hawaiian Islands.
Connects Hawaii to 16 U.S. cities and 10 destinations in Asia and the Pacific.
From Australia, Hawaiian Airlines fly non-stop between Sydney and Honolulu (five days per week). The flight duration is around 10-hours.
If you're thinking about flying Hawaiian from Australia-Hawaii, here's why you'll love them!
10 REASONS TO FLY HAWAIIAN AIRLINES:
---
1. An Authentic Hawaii Experience
Hawaiian Airlines is Hawaii's state carrier, the one-and-only Hawaii flying experience out of Australia. Your Hawaii holiday begins the moment you step onboard the aircraft! Every aspect of the flight is inspired by Hawaii, including the plane's name (usually honoring a native bird, flora, or constellation), the Hawaiian music playing on board, and the crew's 'aloha wear' uniform, to name a few. The In-Flight Safety Video is filmed in the Hawaiian Islands and infused with the Hawaiian language. They also show a Travel Pono video, reminding guests to explore Hawaii with care, helping to preserve the islands' natural resources, cultures and communities.
2. Friendly Local Staff
Hawaiian Airlines is one of the state's largest employers, encompassing a 7,000+ strong workforce. Many of their employees are born and raised in the Hawaiian Islands and hail from diverse backgrounds, reflecting Hawaii's multicultural society. Hawaiian Airlines staff have a welcoming nature and are famous for their style of hookipa (Hawaiian hospitality). From my experience, crew members exude a genuine 'spirit of aloha' and provide exceptional warmth and care for their passengers.
3. Generous Baggage Allowance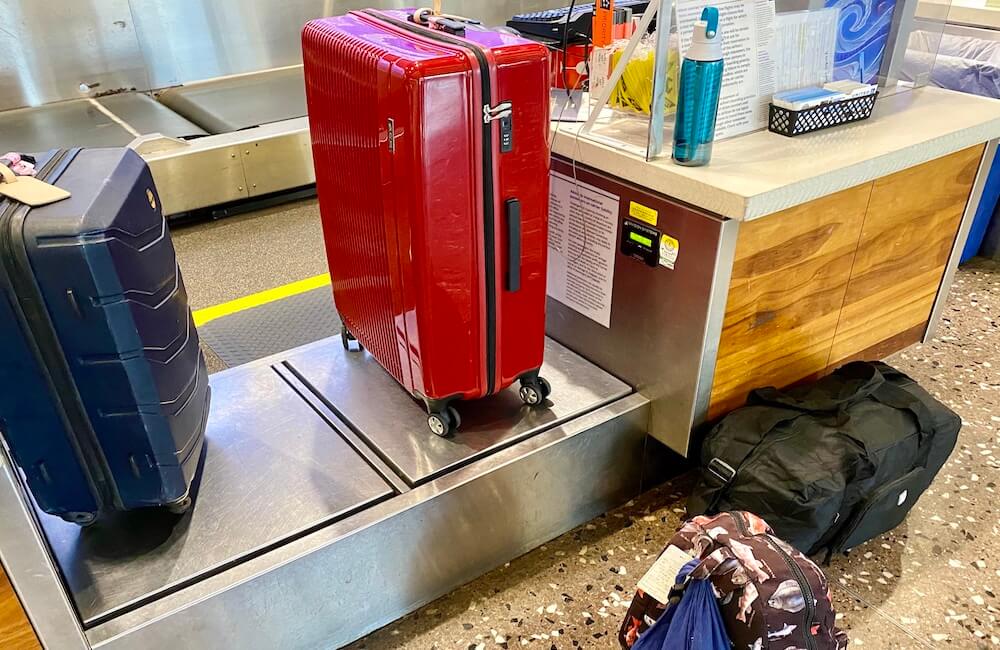 Hawaiian Airlines stand out for its extremely generous baggage allowance on the Australia (and New Zealand) route. All passengers (Economy, Extra Comfort and Business) are entitled to two (2) pieces of checked baggage up to 32kg (70lb) per piece. In addition, one (1) carry-on baggage up 11.5kg (25lb). You are also welcome to check a surfboard or similar item (packed in a board bag with padding) as one of your two complimentary checked bags.
TIP: If you plan to shop in Hawaii (and who doesn't?) it's worth flying Hawaiian Airlines for the 75.5kg (166.5lb) total baggage allowance. Transport your purchases home without having to worry about paying extra in baggage fees!
4. A Taste of Hawaii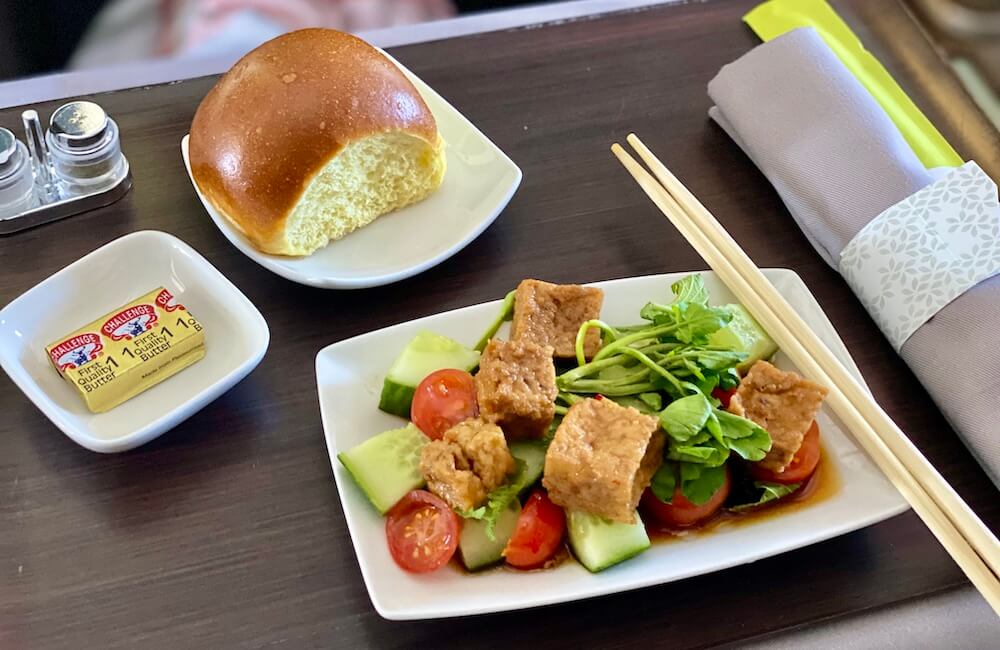 Hawaiian Airlines have an impressive in-flight dining experience on all transpacific routes. They work with Hawaii's most esteemed chefs to create meals that represent Hawaii's vibrant food scene, and are currently collaborating with Wade Ueoka and Michelle Karr-Ueoka from Honolulu's MW Restaurant. Expect two small meals with complimentary beer (try the Maui Bikini Blonde) and wine in the Main Cabin and a three-course meal plus a second meal and snacks with beverages in the Premium Cabin.
Click here for the latest menus for Australia-Hawaii flights.
TIP: Vegetarian, vegan, gluten free and child meals are available on most international routes, by request, at least 48-hours prior to departure. To pre-order a special meal, call Hawaiian Airlines reservations department or your travel agent.
5. Free Entertainment
Hawaiian Airlines provide in-flight entertainment (seat-back screen in Main Cabin and large-format tablets in Premium Cabin) including a USB port for charging digital devices on Australia-Hawaii flights. Passengers can enjoy new release films and specially selected movies, TV show episodes and games. There's also a local Hawaii channel with exclusive programming. About 30-minutes prior to landing look out for the Hawaii facts slideshow, you're bound to learn something new about the Aloha State.
TIP: Don't forget to give Hana Hou a thorough read, Hawaiian Airlines exclusive in-flight magazine!
6. Fantastic Network
Hawaiian Airlines connect Hawaii with the world! They dominate the local market, with over 115 daily flights between the main Hawaiian Islands of Oahu, Maui, Hawaii Island and Kauai. They fly non-stop to 16 U.S. mainland cities in the states of Arizona, California, Florida, Massachusetts, Nevada, New York, Oregon, Texas and Washington. And they offer non-stop service to 10 destinations throughout Asia and the Pacific including American Samoa, Australia, Japan, New Zealand, South Korea and Tahiti.
TIP #1: Always book your inter-island flights in conjunction with your international flight, if you plan on visiting more than one Hawaiian Island. When all flights are booked on the one ticket, the international baggage allowance applies to all sectors including the inter-island flights. When booking online, choose the 'Multi-City' tab and 'Add Another Flight' for each one-way leg.
TIP #2: Aussies can fly from Sydney to the U.S. mainland with a stopover in Honolulu. For example, Hawaiian Airlines is one of the quickest ways to get from Sydney to New York via Honolulu. When booking online, choose the 'Multi-City' tab and 'Add Another Flight' for each one-way leg.
7. The Flight Schedule
Hawaiian Airlines Sydney (Australia) to Honolulu (Hawaii) route runs five times per week. From Sydney, every Tuesday, Thursday, Friday, Saturday and Sunday. From Honolulu, every Monday, Wednesday, Thursday, Friday and Saturday.
SYDNEY-HONOLULU:
It's a late-night flight out of Sydney with travelers departing at 9:40pm, landing on the 'same day' at 11:30am in Honolulu. This schedule is great for a few reasons:
If you live near Sydney you can go to work on your day of departure, and won't loose a day in travel.
If you live far away and need to travel to connect with the flight, you have all day to get to Sydney.
You depart in the PM and arrive in the AM, sleep overnight for an easy transition – no jet lag!
Because Hawaii is a 'day behind' you depart and arrive on the same date – you can 'live' the same day twice! For example, you could celebrate your birthday in Australia, catch the 9:40pm Hawaiian Airlines flight to Hawaii, and do it all again in Hawaii. Double birthday, anyone?
HONOLULU-SYDNEY:
It's a day flight from Honolulu departing at 12:55pm, landing on the 'next day' in Sydney at 7:45pm.
Enjoy a leisurely last morning in Hawaii, no rushing to catch an early morning flight.
You depart in the AM and arrive in the PM, stay awake for an easy transition – no jet lag!
If you live far away and need to travel from Sydney back to your home destination, you might need to overnight in Sydney first. I've stayed at Rydges Sydney Airport on several occasions, it's conveniently located within walking distance of Sydney Airport.
TIP: If you work the Monday to Friday grind in or around Sydney – you can plan your trip to depart Sydney on a Friday night and return from Honolulu the following Saturday. This would give you an 8-night vacation with only 5-days off work required (one week, Monday to Friday).
8. Extra Comfort Seating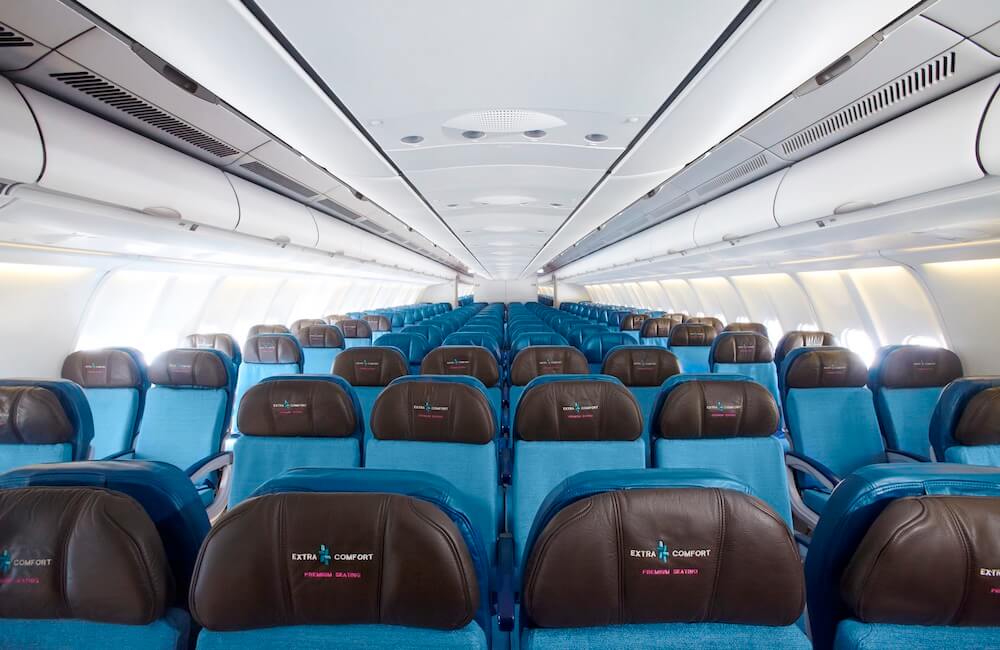 Hawaiian Airlines fly the wide-body Airbus A330 aircraft on the Australia-Hawaii route. There are three styles of seats available – Economy and Extra Comfort in the Main Cabin and Business Class in the Premium Cabin. The Extra Comfort category has gained so much popularity, there are now 68 Extra Comfort seats available. This is in addition to 192 Economy and 18 Business Class seats.
If you want to give your Hawaiian Airlines international flight an edge, upgrade to Extra Comfort!
HIGHLIGHTS OF EXTRA COMFORT SEATING:
Around 13cm (5in) in extra legroom!
Priority boarding at the departure gate
A personal electrical outlet
Upgraded Amenity Kit (see below)
Seat-back screen, blanket and meal service (this is the same as Economy)
9. Business Class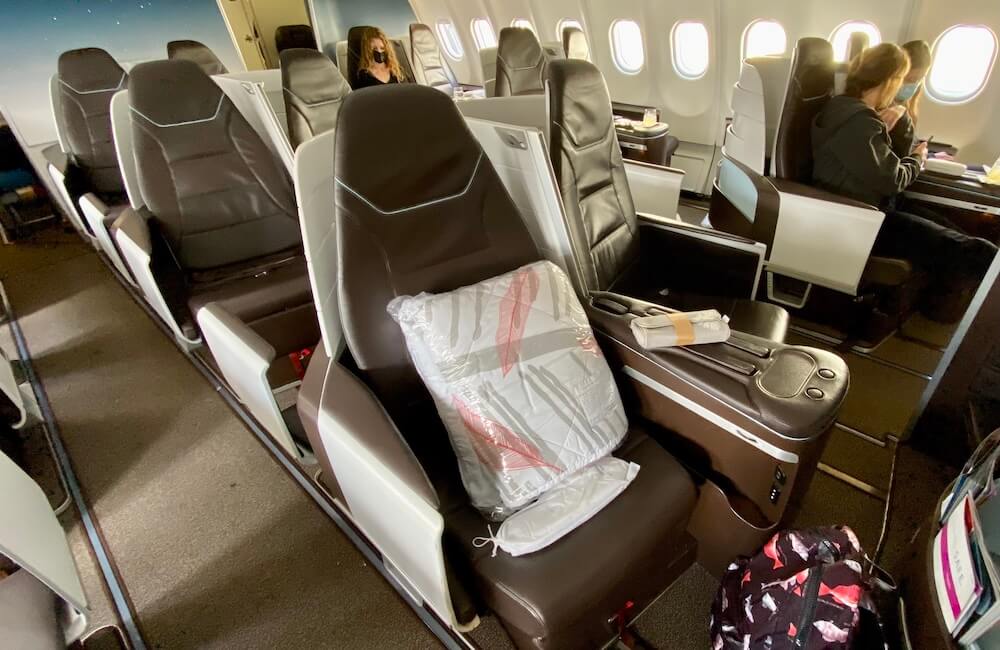 As mentioned above, Hawaiian Airlines fly the wide-body Airbus A330 aircraft on the Australia-Hawaii route. There are three styles of seats available – Economy and Extra Comfort in the Main Cabin and Business Class in the Premium Cabin. There are 18 Business Class lie-flat seats available, arranged in double pods. This is in addition to 192 Economy and 68 Extra Comfort seats.
If you want to have an unforgettable Hawaiian Airlines international flight, book Business Class!
HIGHLIGHTS OF BUSINESS CLASS:
Dreamy 180° lie-flat seats!
Two USB ports and full AC power in each seat
Use of a privacy screen
Advanced in-flight entertainment via large-format tablets
A three-course meal plus a second meal and snacks with beverages (hello, Mai Tai)
Exclusive amenities including Hawaii-inspired products
Use of the following departure lounges: The House operated Swissport International at Sydney Airport and The Plumeria Lounge operated by Hawaiian Airlines at Honolulu Airport.
TIP: Passengers can bid for a chance to fly Business Class! Check if your reservation is eligible for Hawaiian Airlines Bid Up program.
10. Hawaiian Miles Program
Hawaiian Miles is the official frequent flyer program by Hawaiian Airlines. The miles (aka points) don't expire, so I highly recommend that every Aussie that flies Hawaiian join this loyalty program.
If my calculations are correct, a return flight from Sydney to Honolulu can score you 10,120 Hawaiian Miles. A one-way neighbor island flight starts from 7,500 miles, so that means upon your return trip to Hawaii you'll already qualify for one free inter-island flight!
BENEFITS OF HAWAIIAN MILES:
Great benefits and free to join!
Earn miles on how far you fly, not how much you spend
Book a flight award with miles that don't expire and travel anytime without blackout dates
Earn miles on everyday purchases
TIP: Once you have joined the Hawaiian Miles program, make sure you are logged into your Hawaiian Miles account to search for flights. You'll also want to make sure you apply your Hawaiian Miles number to the reservation during the booking process. Don't worry if you forget, there is a grace period to add it in later.
EXTRA PERKS OF FLYING HAWAIIAN:
FOR HAWAII COVID-19 TRAVEL REQUIREMENTS:
CHECK YOUR TRAVEL DATES ON HAWAIIAN AIRLINES:
Disclosure: The Hawaii Admirer has flown with Hawaiian Airlines on the Australia-Hawaii route 50+ times since 2009. Flights were taken for a mix of business and leisure and were hosted by Hawaii Tourism (previous employer), Hawaiian Airlines and/or paid for personally. The Hawaii Admirer will earn a commission for bookings made using the affiliate links on this webpage. All of the thoughts expressed in this article are my honest opinion.