It's time to give your Hawaii holiday a digital upgrade. Here are the best smartphone apps to enhance your Hawaii travel experience!
01. DaBus2
02. Drops or Duolingo
03. GoHawaii
04. Hawaii Happy Hours
05. Hawaii NOW Local News
06. Hawaii Revealed
07. Open Table
08. Shaka Guide
09. Tips HD Pro
10. Uber or Lyft
11. Yelp
---
01. DaBus2
Cost: Free
DaBus2 uses real-time data from Oahu Transit Services to GPS track all "TheBus" services island-wide, providing accurate arrival information. This is an essential travel app if you're planning to ride Oahu's public bus system.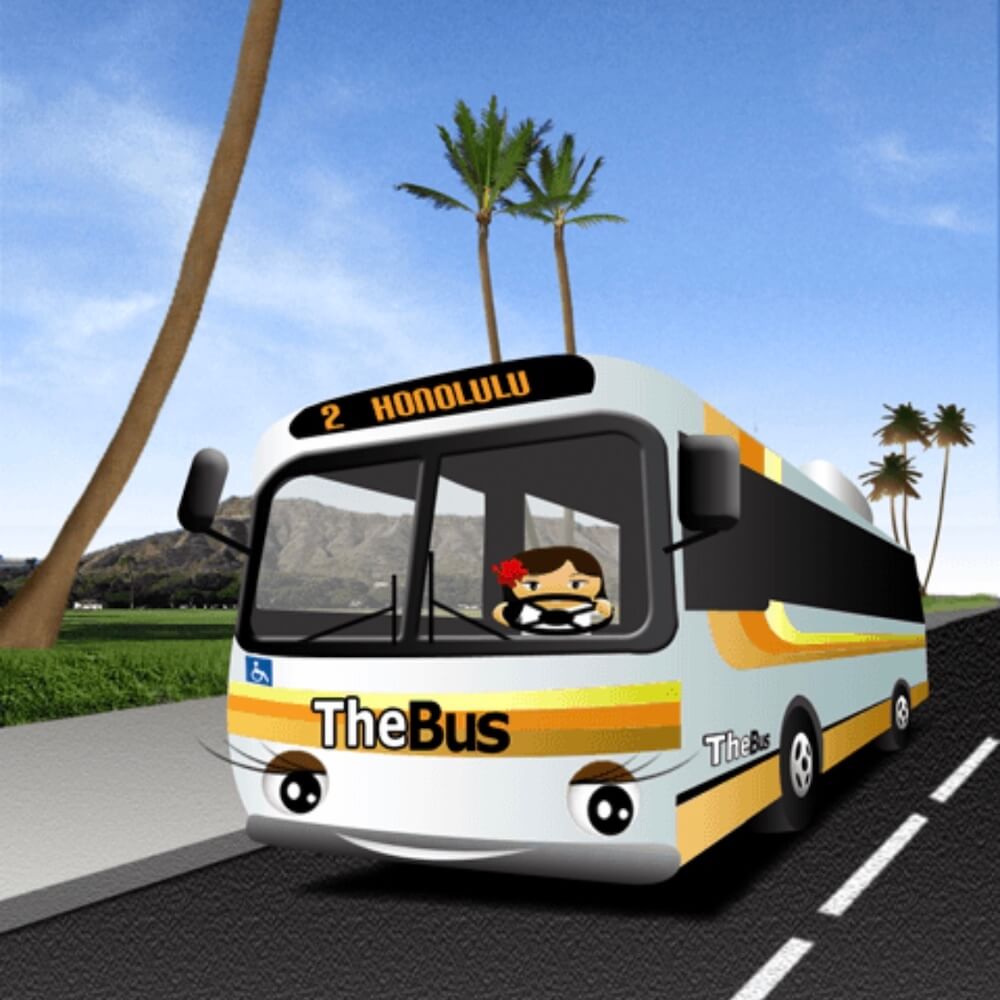 Use DaBus2 to:
• locate nearby bus stops
• explore the bus routes and timetables
• see the map location of any bus in real-time
TIP: DaBus2 is the replacement app for DaBus, make sure you download DaBus2.
02. Drops or Duolingo
Cost: Free and Paid Subscriptions
Drops and Duolingo are language learning apps. Hawaii is the only U.S. state with two official languages, Hawaiian and English. These apps help you learn Hawaiian words, popular phrases and slang.
Use Drops or Duolingo to:
• learn the basics of the Hawaiian language in a fun and educational way
TIP: If you join Duolingo, feel free to add me "hawaiiadmirer" as a Friend (we can motivate each other!).
03. GoHawaii
Cost: Free
GoHawaii is the official tourism board app for the State of Hawaii. It's worth a thorough read, it features a lot of important destination information.
Use GoHawaii to:
• find sites and attractions on each Hawaiian Island
• review travel tips and water, hotel and road safety advice
• find helpful links and a list of Hawaii emergency contacts
• share Locomoji, Hawaii-inspired emoji, from the app!
TIP: Don't miss the Welcome video, you'll get to hear the Hawaiian language!
04. Hawaii Happy Hours
Cost: Free
Hawaii Happy Hours gives you the inside scoop on Hawaii's discounted food and drink deals! It's essentially a database of Hawaii's bars and restaurants and their applicable Happy Hour times, menus and pricing.
Use Hawaii Happy Hours to:
• browse Happy Hours by island and city
• view a gallery of menu items
• find Local Deals when available
TIP: Create a profile to save your favourite Hawaii happy hours and deals so you can easily find them anytime.
05. Hawaii NOW Local News
Cost: Free
Hawaii NOW Local News provides up-to-date local Hawaii news, weather updates and traffic information. It's very handy when you are in-destination, especially the weather and traffic alerts.
Use Hawaii NOW Local News to:
• get the top stories from across the Hawaiian Islands
• gain Hawaii weather forecasts up to 10 days in advance (easily change settings from ℉ to ℃)
• watch Hawaii traffic in real time showing the stopped, slow, medium and fast roads
TIP: Watch Hawaii NEWS NOW live broadcasts in-app.
06. Hawaii Revealed
Cost: From $17.99/year per island
Hawaii Revealed are award-winning guidebooks, now available in app format. They're famous for a no bullsh*t approach expressing their anonymously reviewed and unbiased opinions on everything Hawaii.
Use Hawaii Revealed to:
• get the low-down on Hawaii's local beaches, attractions, sights, activities and more
• figure out where to stay with their concise hotel summaries e.g. how far from beach, amenities, whether it has a pool or not
• easily compare restaurants and other dining options like luaus
TIP: If you're like me and enjoy reading, highlighting and writing notes in books, order Hawaii Revealed guidebooks in paperback!
07. Open Table
Cost: Free
Open Table is key for making dinner reservations, especially in Waikiki on Oahu and Lahaina and Wailea on Maui. Most Hawaii restaurants are listed on the app and easily secured. Note, bar seats are always open for walk-ins, first come first served.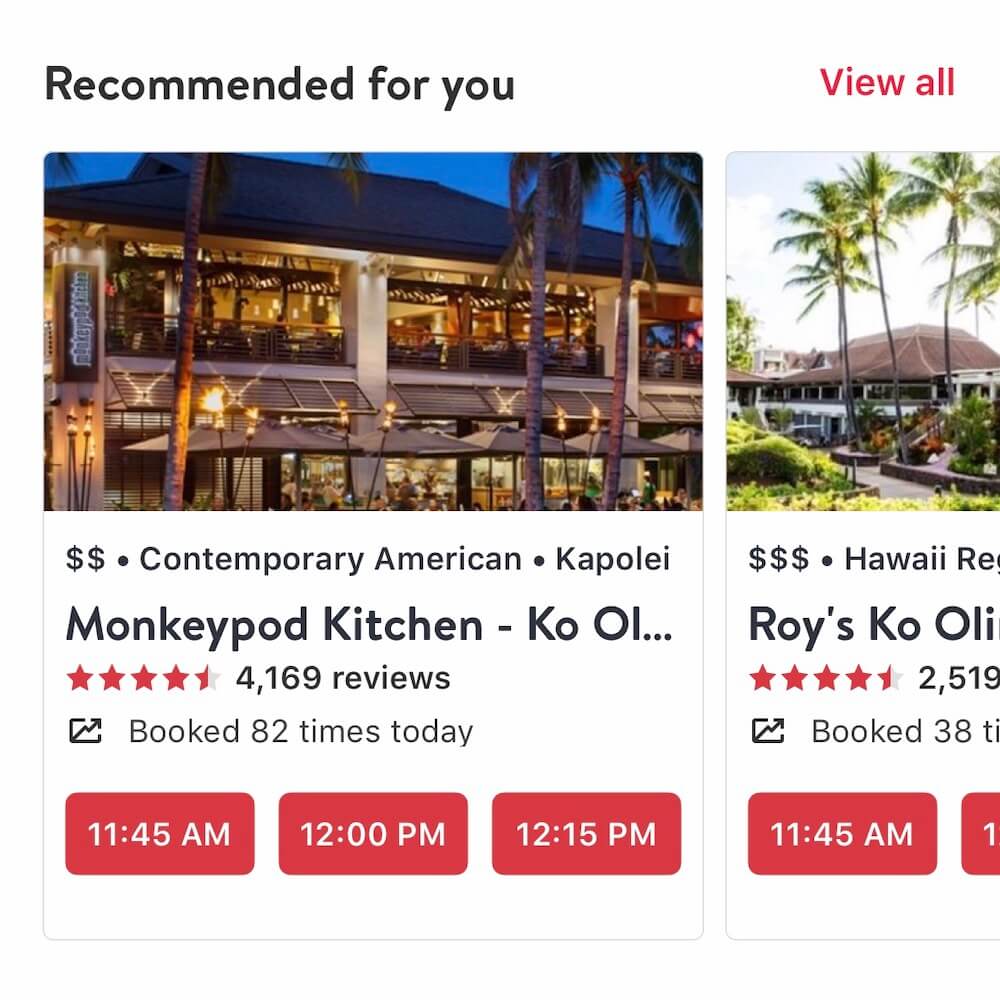 Use Open Table to:
• find restaurants by island and city
• book reservations at restaurants to avoid disappointment
TIP: You can also cancel and change your reservations as needed via the app
08. Shaka Guide
Cost: From $9.99
Shaka Guides are the next best thing to having a Hawaii tour guide in the car. These GPS location-based audio tours provide turn-by-turn directions and points of interest on set drive itineraries around Hawaii.
Use Shaka Guide to:
• self-drive tour at your own pace around Oahu, Maui, Hawaii Island and Kauai
• discover the best spots to stop and explore along the way
• learn interesting stories, history and facts about Hawaii during the journey
Download:
Shaka Guide Oahu
Shaka Guide Big Island
Shaka Guide Maui
Shaka Guide Kauai
TIP: The Shaka Guide is essential listening for driving the Road to Hana, a scenic road trip on Maui's north-west coast!
09. Tips HD Pro
Cost: $2.99
Tips HD Pro works out the tipping math for you. Most hospitality staff you will encounter on your Hawaii holiday depend on tips for their living so it's important to get it right, this app will help.
Use Tips HD Pro to:
• work out calculations in a user-friendly one screen format
• keep calculations saved in history for your records
TIP: Standard practice for tipping is 10-20%, dependent on your satisfaction of the service.
RELATED >> How Do I Tip in Hawaii?
10. Uber or Lyft
Cost: Free
Uber and Lyft are life-changing apps for getting around Hawaii, and they're cheaper than using local taxis! They make travelling a breeze in the main areas of Oahu, Maui, Hawaii Island and Kauai, and are available to/from the major island airports.
Use Uber or Lyft to:
• get to and from Hawaii hotspots in an affordable and convenient way
• find your exact location at any time, drop your pin for a pick-up, choose your drop-off and then watch the GPS tracker to see your driver en-route
• make payments easy, the ride is billed to your credit card and your receipt emailed to you (it's a cashless experience, add a tip through the app post-ride)
TIP: Set up your Uber and Lyft accounts and get familiar with the app before landing in Hawaii. Hawaii Admirer fans who are new to Uber or Lyft can use the following Promo Codes for first-ride discounts. Uber: k6863 Lyft: ASHLEE538536
11. Yelp
Cost: Free
Yelp helps people find great local businesses thanks to users who provide helpful reviews. This app is popular across Hawaii making it a fabulous resource to find just about anything you are looking for.
Use Yelp to:
• search and locate highly-rated restaurants and bars
• see photos of dishes and the menu to help you choose what to order
• find specific businesses e.g spas, hairdressers, coffee shops and more
• check the events listing for what's on (check my what's on page too)
TIP: Inspect the businesses Yelp profile for Check-in Offers! Check-in on the Yelp app and show the wait staff to access the discount.
RELATED >> How Can I Use My Mobile Phone in Hawaii?
INSIDER TIP:
Don't forget to call your mobile provider before you depart! Ask them about your plan in regards to international data and roaming charges. You'll want to make sure 1. your phone will work in Hawaii 2. that your plan covers you for international calls, messages, texts and data and 3. what the applicable rates will be. If it sounds too expensive, make sure your phone is unlocked and look into buying a U.S. pre-paid sim card.