Deciding to take a Hawaii holiday is easy! Figuring out which Hawaiian Islands to visit is when the struggle becomes real.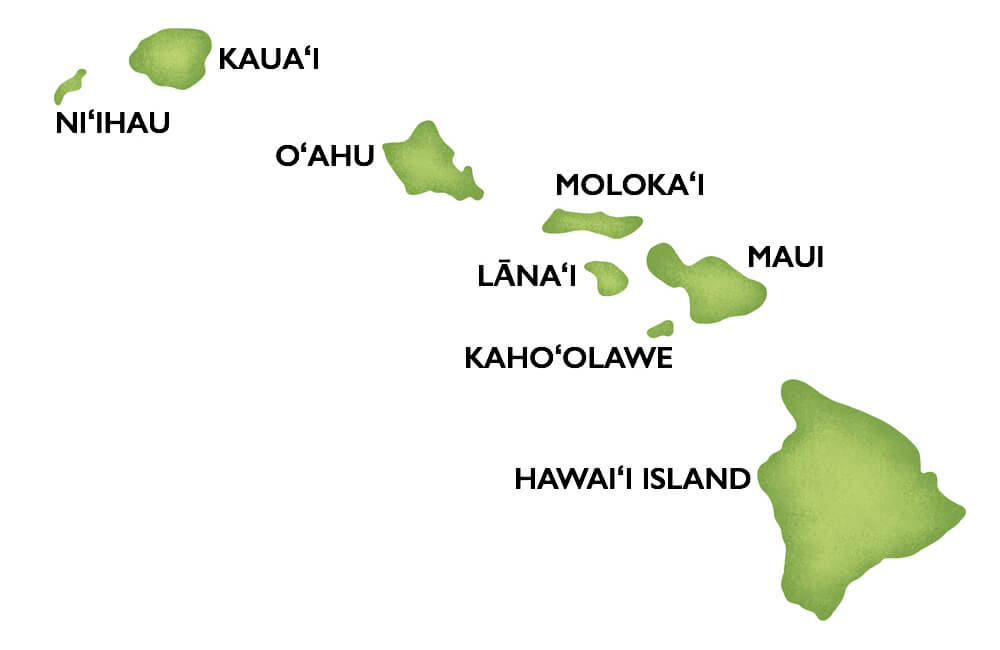 Eight islands make up the U.S. state of Hawaii and tourists can visit six of them. Each Hawaiian Island is distinctively different and a destination unto itself.
The two prohibited islands are:
Kahoolawe, once a bombing range for the U.S. Armed Forces, is now under restoration and designated for Native Hawaiian cultural and spiritual purposes. Niihau is privately owned by the Robinson family and is forbidden to all but relatives of the island owners, by invitation only.
The six accessible islands, in order of popularity among visitors, are:

Oahu
Maui
Hawaii (Hawaii Island/Big Island)
Kauai
Molokai
Lanai
Lanai and Molokai are islands situated off Maui's west coast. I visited Lanai for a two-night stay and loved it. Lanai boasts luxury resorts and championship golf courses, it's dubbed Hawaii's most exclusive isle. I'm yet to explore Molokai, it has a significant Native Hawaiian population and retains a traditional way of life. It's unspoiled, has few hotels and no traffic lights.
I have travelled extensively throughout the four main islands of Oahu, Kauai, Maui and Hawaii. To help you decide which Hawaiian Islands you should visit, I've offered my insight into the unique charm of each of these main ones.
---
KAUAI, hidden gem of the Hawaiian Islands
Kauai is pronounced ka-why-ee.
Land area 552 mi2 (1430 km2).
Population 70,000.
Annual visitors 1.1 million.
It's stunning, rural and peaceful.
Go there to escape, unwind and restore.
Admired by honeymooners, outdoorsy types and retirees.
You'll enjoy Kauai if you value nature, need rest and relaxation, have an adventurous spirit and don't mind if it rains (that's why it's so green) or that bars close early.
I love Kauai's very slow pace and the jaw-dropping natural landscapes, the majority of which are inaccessible by road and are best explored by air, sea or foot.
Natural draw cards:
Waimea Canyon
Napali Coast
Hanalei Bay
Wailua River
---
SEARCH ACTIVITY SHOP:
RELATED >> Top 10 Kauai Must Do's
---
OAHU, social hub of the Hawaiian Islands
Oahu is pronounced oh-ah-hoo.
Land area 597 mi2 (1546 km2).
Population 1.1 million.
Annual visitors 5.2 million.
It's easy-going, lively and entertaining.
Go there to have fun, indulge and sightsee.
Admired by couples, active families and pretty much all walks of life.
I love how Oahu mixes a culturally diverse city and urban conveniences with a carefree tropical island lifestyle, stunning beaches and beautiful countryside.
You'll enjoy Oahu if you worship the sun, sand and surf, like to shop, wine and dine, seek nightlife experiences and are interested in exploring Hawaii's history, arts and culture.
Natural draw cards:
Waikiki Beach
North Shore
Pearl Harbor
Diamond Head
---
SEARCH ACTIVITY SHOP:
RELATED >> Top 10 Oahu Must Do's
---
MAUI, shining star of the Hawaiian Islands
Maui is pronounced mow-wee.
Land area 727 mi2 (1882 km2).
Population 150,000.
Annual visitors 2.5 million.
It's charming, pretty and super-cool.
Go there to celebrate, relax and celebrity spot.
Admired by honeymooners, ocean adventurers and wealthy vacationers.
I love Maui's chilled out vibe, it offers an impressive combination of beautiful natural environments and modern tourism services all without large crowds.
You'll enjoy Maui if you are a water baby, adore oceanfront dining, like cute towns and natural scenery, seek high-end experiences, have a strong creative side and appreciate arts and crafts.
Natural draw cards:
Kaanapali Beach
Molokini
Haleakala National Park
Iao Valley
---
SEARCH ACTIVITY SHOP:
RELATED >> Top 10 Maui Must Do's
---
HAWAII, surprise package of the Hawaiian Islands
Also called Hawaii Island/the Big Island.
Hawaii is pronounced ha-why-ee.
Land area 4,028 mi2 (10,430 km2).
Population 185,000.
Annual visitors 1.5 million.
It's large, remarkable and laidback.
Go there to retreat, trek and be wow'd.
Admired by down-to-earth people, couples and scientific minds.
I love Hawaii Island for its energy, friendly people and wonderland of environments, 11 of the world's 13 climate zones are represented on this big island.
You'll enjoy Hawaii Island if you want to see an active volcano or snow-capped mountains (in winter), like road trips and adventure, seek cultural or spiritual connections and are intrigued by geology, astronomy or marine biology.
Natural draw cards:

Hawaii Volcanoes National Park
Maunakea
Puuhonua o Honaunau Historic National Park
Hamakua Coast
---
SEARCH ACTIVITY SHOP:

RELATED >> Top 10 Hawaii Island Must Do's
---
If you're still not sure which Hawaiian Islands you should visit, please don't worry! Each island is incredible in its own special way and I personally don't believe it's possible to make a wrong decision 🙂
ADMIRER TIPS:
Inter-island flights are short in duration (30-50 minutes) making it easy to incorporate a multi-island itinerary. No matter which Hawaiian Islands you choose to visit try to spend at least three or four nights on each one.
Hawaii's only ferry service links Maui (Lahaina Harbor) to Lanai (Manele Harbor), making this particular island popular for day excursions.
---
---
Disclosure: The Hawaii Admirer will earn a small commission for purchases made using the affiliate links on this website. Mahalo [Thank you] for your support!