Prince Waikiki Hotel Review, Oahu, Hawaii.
When an invitation to experience Prince Waikiki popped up in my inbox, I was super excited. I'd been curiously following the progress of their $55 million dollar renovation and had been impressed with what I'd seen so far.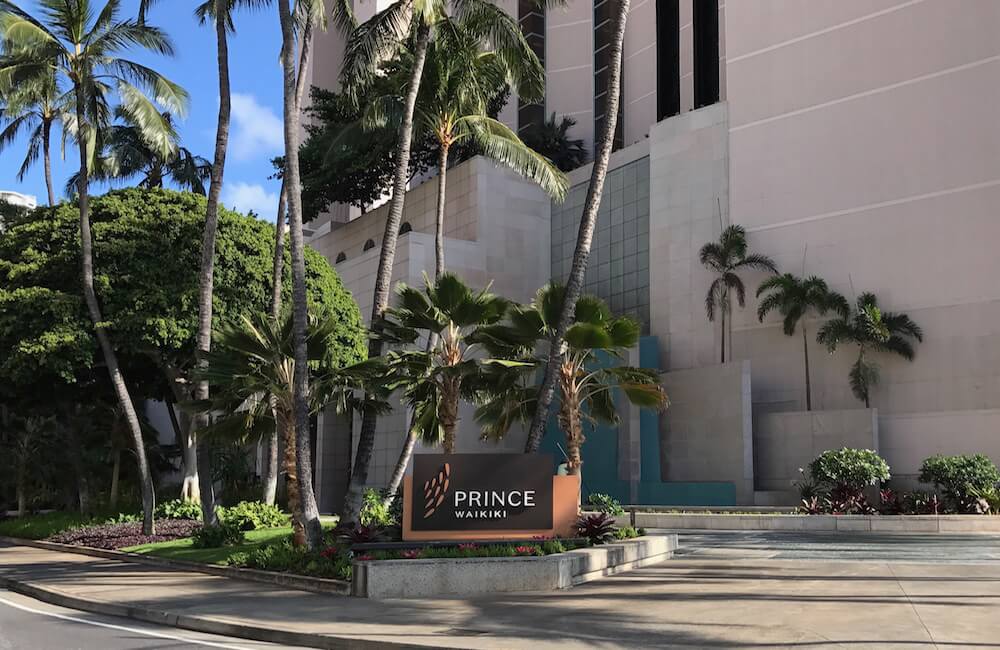 Formerly the Hawaii Prince Hotel Waikiki and Golf Club, the property sits at the 'gateway' to Waikiki. It's one of the first hotels you see as you enter Waikiki from Ala Moana Boulevard.
THE HOTEL MADE THESE MAJOR CHANGES IN 2017:
A complete redesign and rebrand from top to bottom
560+ rooms and suites were lavishly upgraded, and feature floor-to-ceiling ocean views
New dining options opened (100 Sails Restaurant & Bar, Katsumidori Sushi Tokyo and Honolulu Coffee Co.)
The large lobby was beautifully modernized
Indoor and outdoor gathering spaces were incorporated throughout
A new infinity pool and Prince Waikiki Club Lounge were created
And it's not only about a physical transformation; the hotel has shifted its focus to provide more personalized guest services and a 'modern artful experience' for travelers.
From check-in until check-out I loved the overall feeling of this high-end hotel, it has a personal warmth that's brought on by the beautiful interior design combined with the hotel's friendly staff.
The small touches added up, like the almond-scented cold towel given on arrival, complimentary citrus iced water available in the lobby and access to screens to check-in to flights and print boarding passes.
There are great meal options in the hotel, and also within easy walking distance. The proximity of the hotel to Ala Moana Center is a huge bonus, with plenty of shopping and dining options barely a 5-minute walk away.
10 THINGS I LOVED ABOUT PRINCE WAIKIKI:
---
1. Floor-To-Ceiling Ocean Views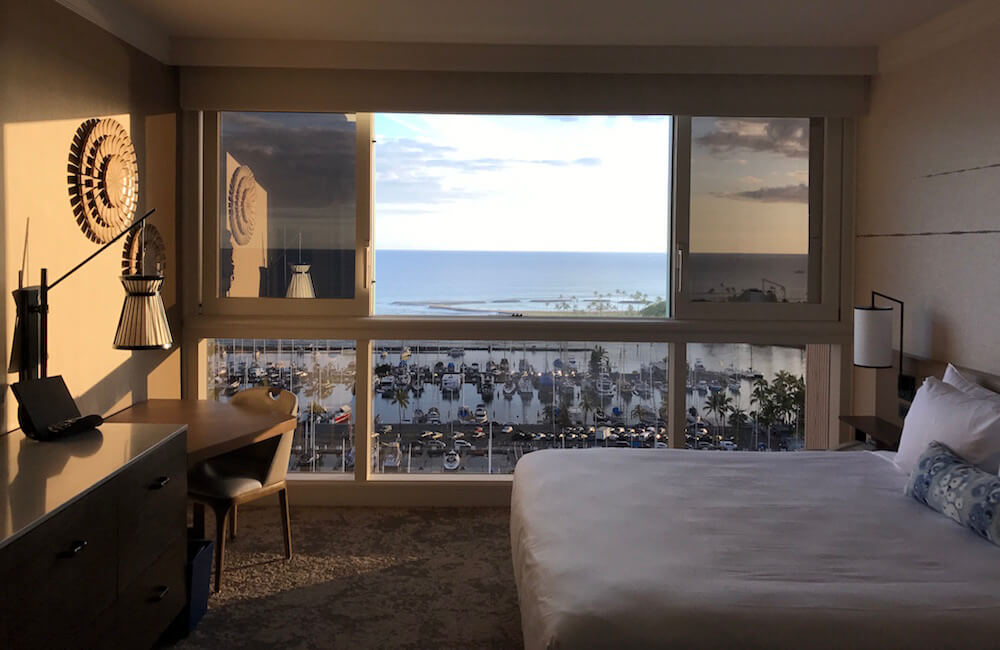 Prince Waikiki rooms and suites don't have a lanai [balcony], but you'll hardly notice because of the stunning floor-to-ceiling ocean views! Once you open the double glass windows, it adds a fantastic feel to the room and brings the outside in. The views over Ala Wai Boat Harbor, especially at sunset (see cover image), are extraordinary.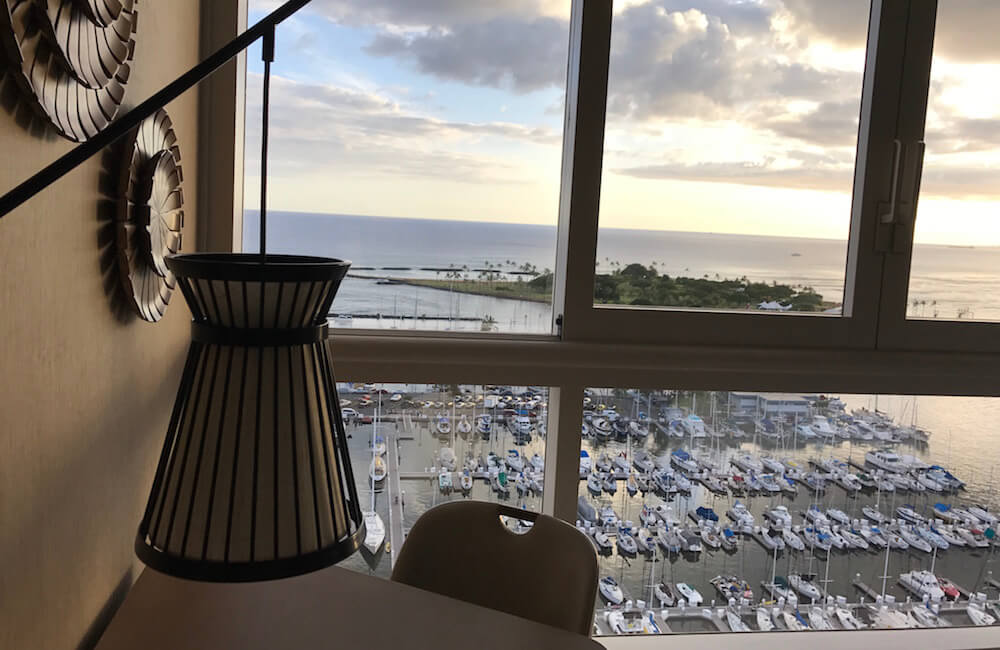 The Ocean Front Rooms have gorgeous modern decor. It's fresh and sets a very calm and serene tone. A comfortable corner couch made the room feel much bigger than a typical hotel room. For business travelers, a small desk is available. It's lucky your back is turned away from the view otherwise you'd never get any work done!
2. The Infinity Pool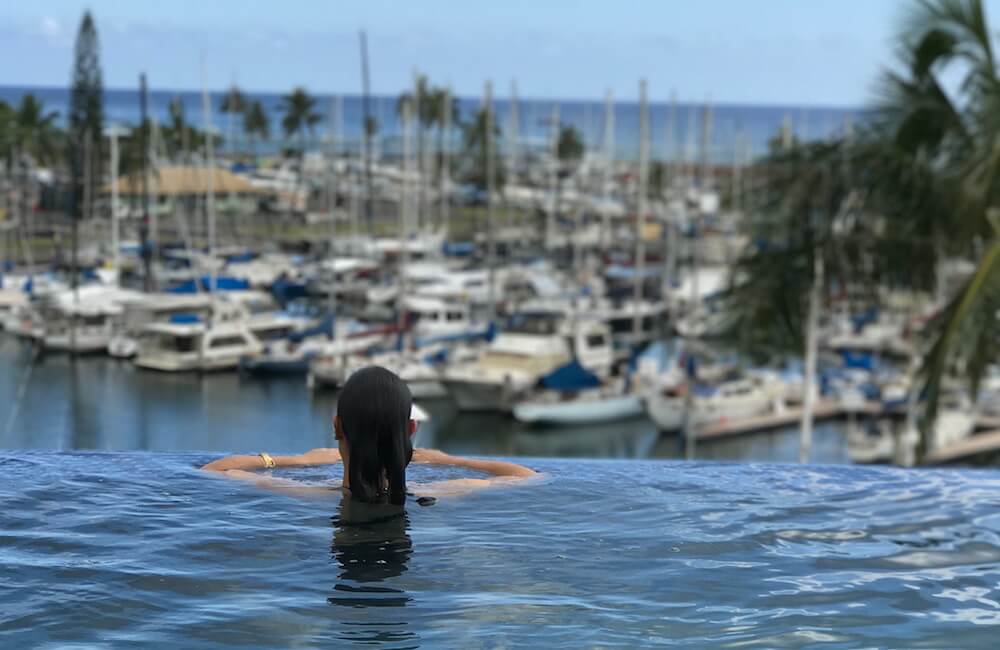 With an infinity pool overlooking Ala Wai Boat Harbor, it doesn't get much better than this! I only planned to take a short dip but couldn't bring myself to get out of the water for a good couple of hours 🙂 Can you blame me?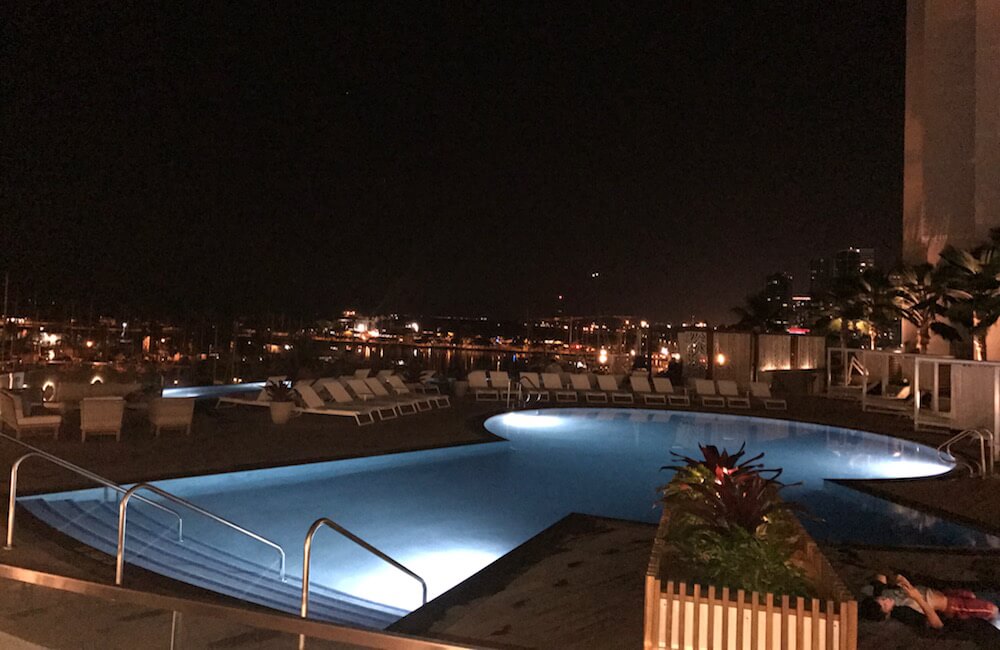 There's also a gorgeous keyhole-shaped pool and nearby Hinana Bar, ample deck chairs, and Cabana Packages bookable on Resort Pass.
3. Prince Waikiki Club Lounge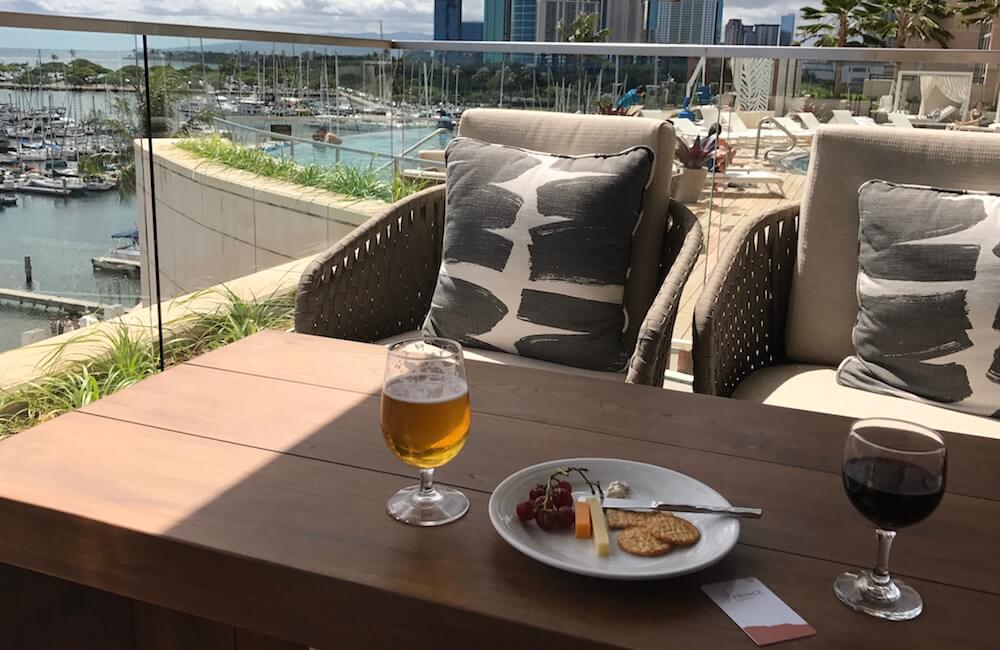 If I was to describe the Prince Waikiki Club Lounge in two words, VIP service. It's for guests wanting to treat themselves. Book a Prince Waikiki Club Lounge Room to get access to a raft of exclusive experiences. Two top features are a guaranteed high floor (remember those unobstructed ocean views from earlier) and unlimited Club Lounge access. The Club Lounge is perfectly positioned overlooking both pools.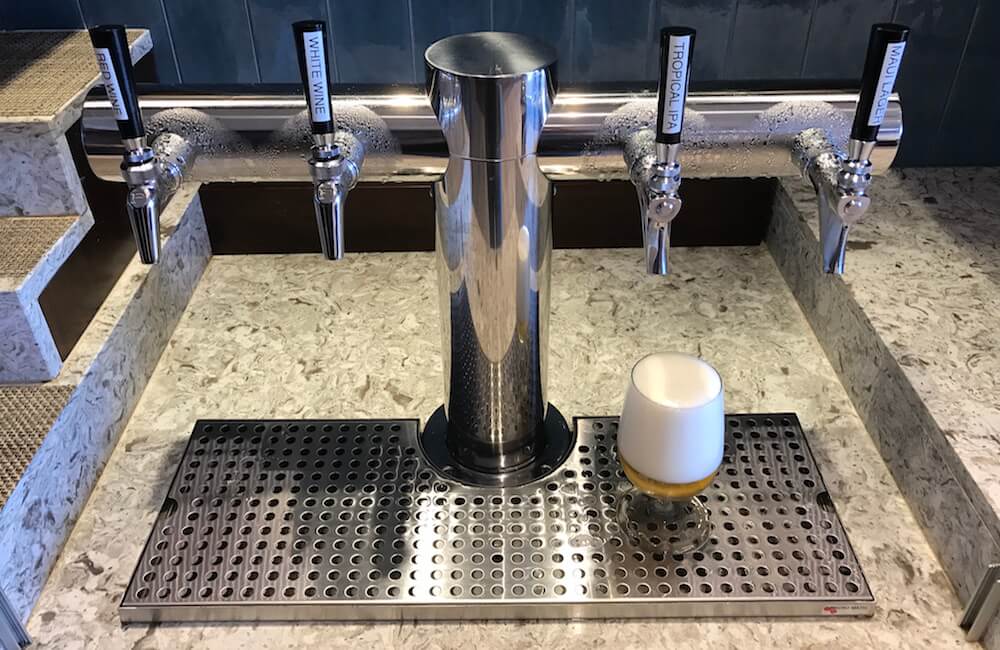 The Club Lounge offers complimentary all-day beer and wine on tap, breakfast, afternoon snacks and evening hors d'oeuvres You'll also be privy to expedited check-in and check-out arrangements and personal concierge services.
4. Dinner Buffet at 100 Sails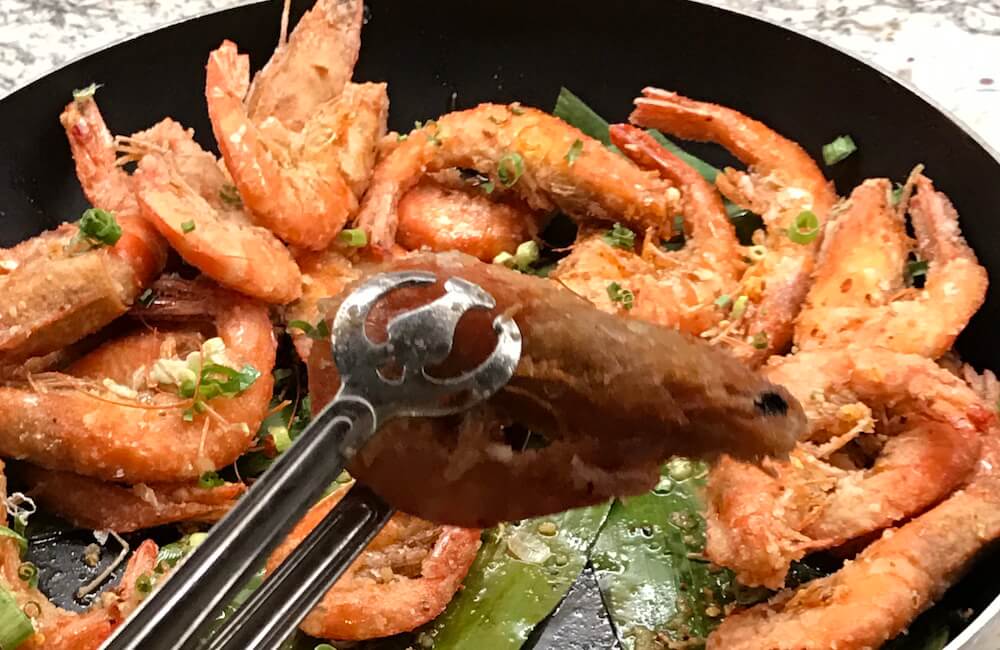 100 Sails Restaurant & Bar is the hero restaurant on-site at Prince Waikiki and its seafood-forward smorgasbord is fast gaining notoriety. It's the newest buffet on the Waikiki block, and my taste buds were tantalized. The New American-Pacific Rim cuisine is top-notch and great value for $62 Adult, $31 Child (6-12 years) + tax and gratuity.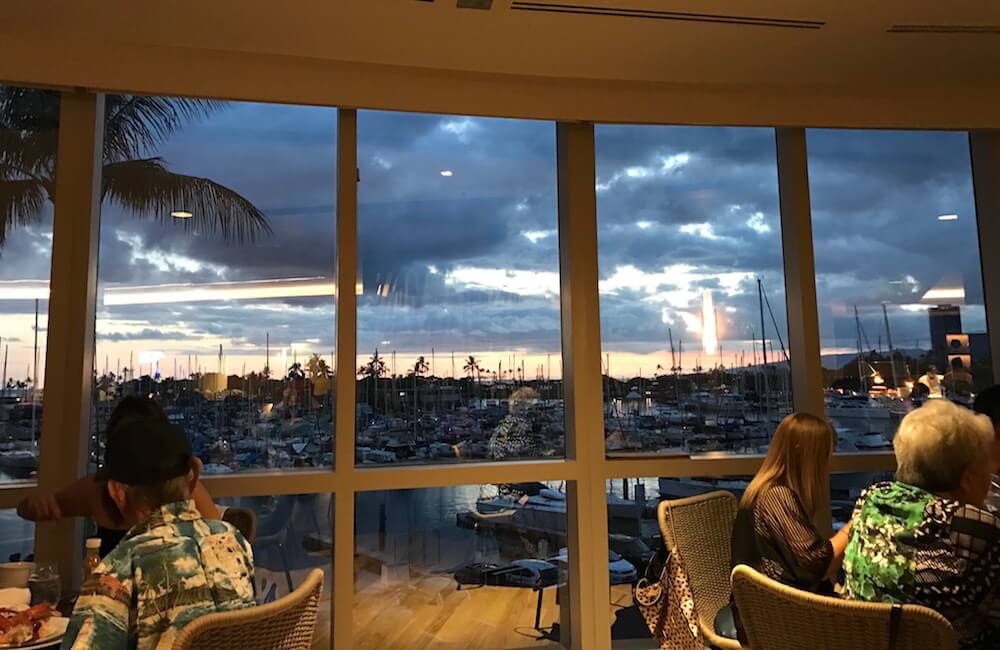 Head to the restaurant on an empty stomach and just before sunset to make the most of the beautiful setting.
5. Ala Moana Beach Park
Staying at the Prince Waikiki means you are equal distance to get to Waikiki Beach or Ala Moana Beach Park, a more locals beach experience. It's at Ala Moana Beach Park where you'll find Magic Island and a small, pristine, and often empty, lagoon. Wade in these waters on a Friday night at 7:45pm for a splendid view of the free fireworks show.
The red icon above outlines the location of Prince Waikiki, it is:
5-minutes walk to Ala Moana Center
10-minutes walk to the Duke Kahanamoku Beach, the start of the Waikiki Beach sand strip
15-minutes walk to Magic Island Lagoon at Ala Moana Beach Park
30-minutes walk to the Duke Kahanamoku Statue, halfway along Waikiki Beach
6. Free Hotel Shuttle Service
Prince Waikiki is on the quieter west end of town, so whenever you need a central Waikiki fix simply board the free shuttle from/to the hotel. It makes three key stops at Ala Moana Center, T Galleria by DFS and Duke's Statue. For those keen to tee off, there's also a golf shuttle to Hawaii Prince Golf Club.
7. Chill Zones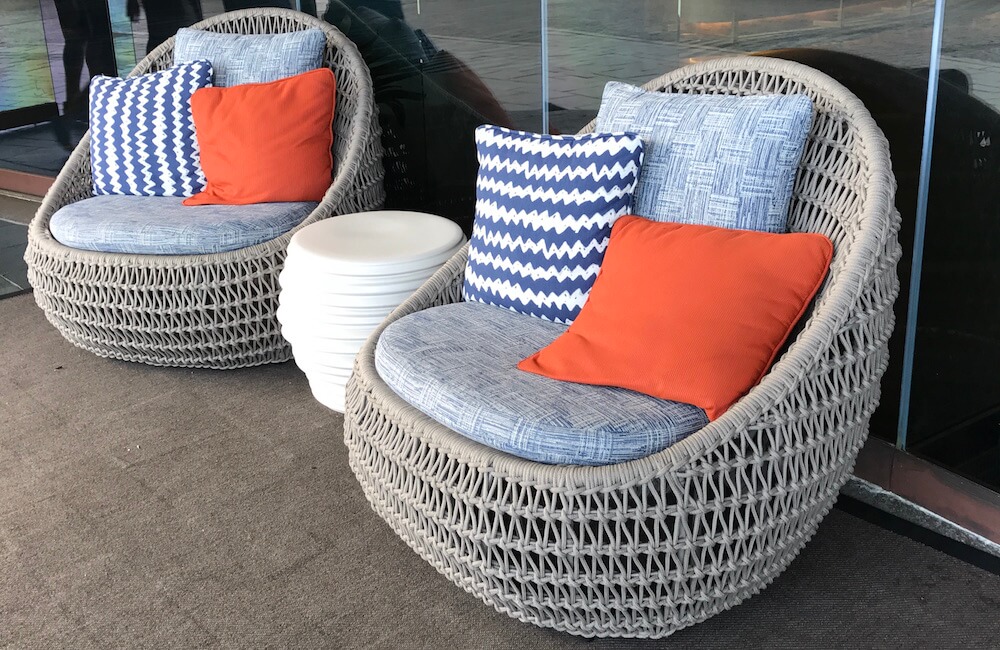 You'll find welcoming sitting areas everywhere you go within the hotel. These 'chill zones' are made up of comfortable couches and funky armchairs. Like these pair of beauties, sink into them while waiting for a taxi.
8. Separate Bath, Shower and Toilet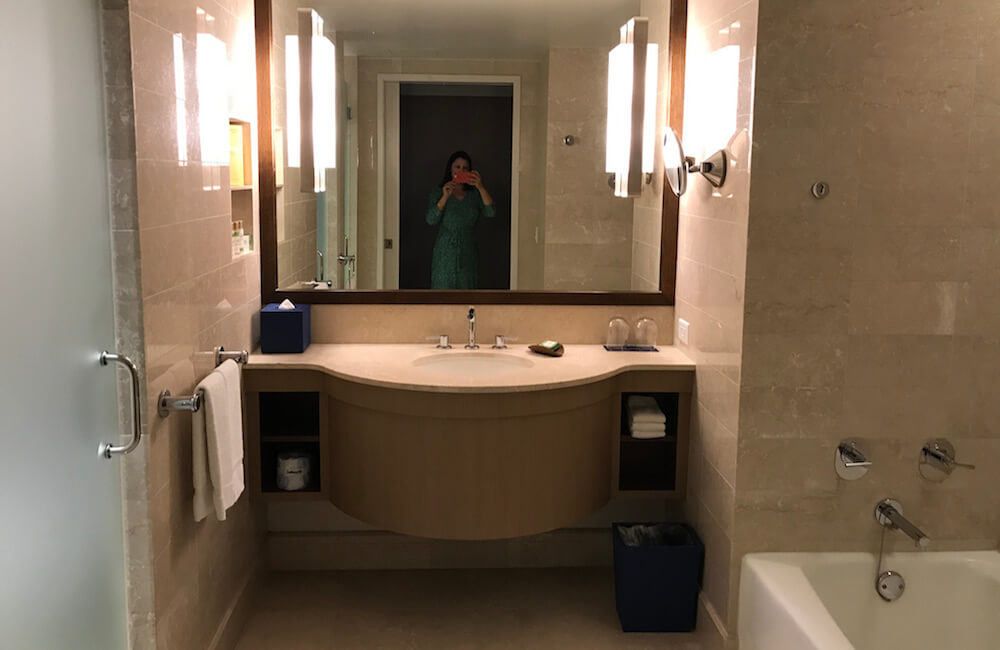 The bathrooms are enormous and luxurious. There is a beautiful tub tempting you to take a bath night after night. The shower and toilet (it has a great bidet by the way) are in separate areas with privacy doors. Love, love, love.
9. Maile Amenities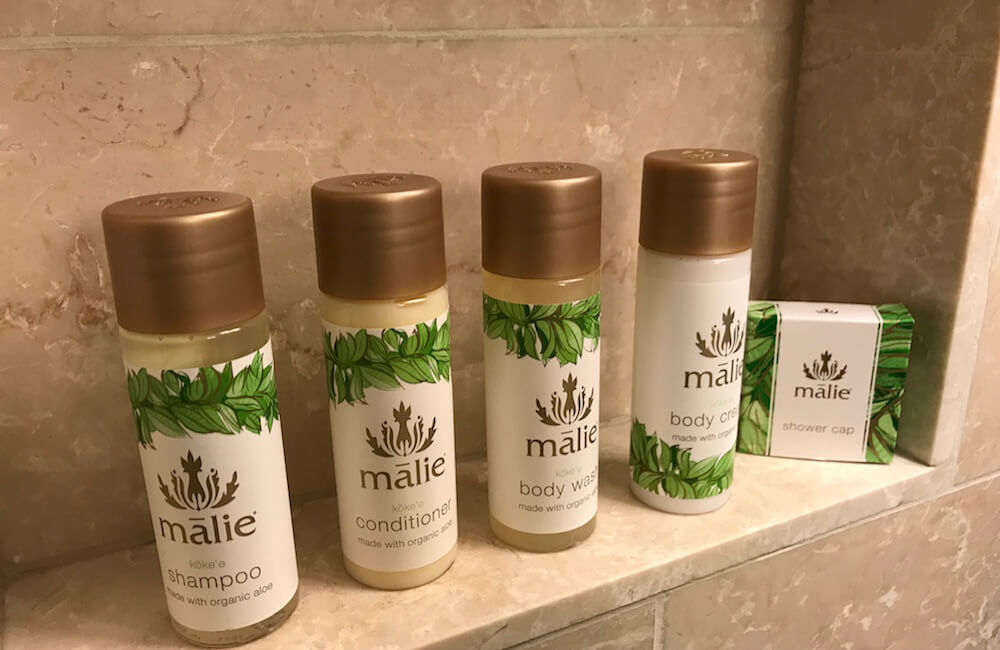 No expense is spared with the amenities. Malie is my all-time favorite Hawaii beauty range; I'm obsessed with the original Kokee scent. I was thrilled to see Maile at Prince Waikiki; they are a very indulgent choice of product.
10. Honolulu Coffee Company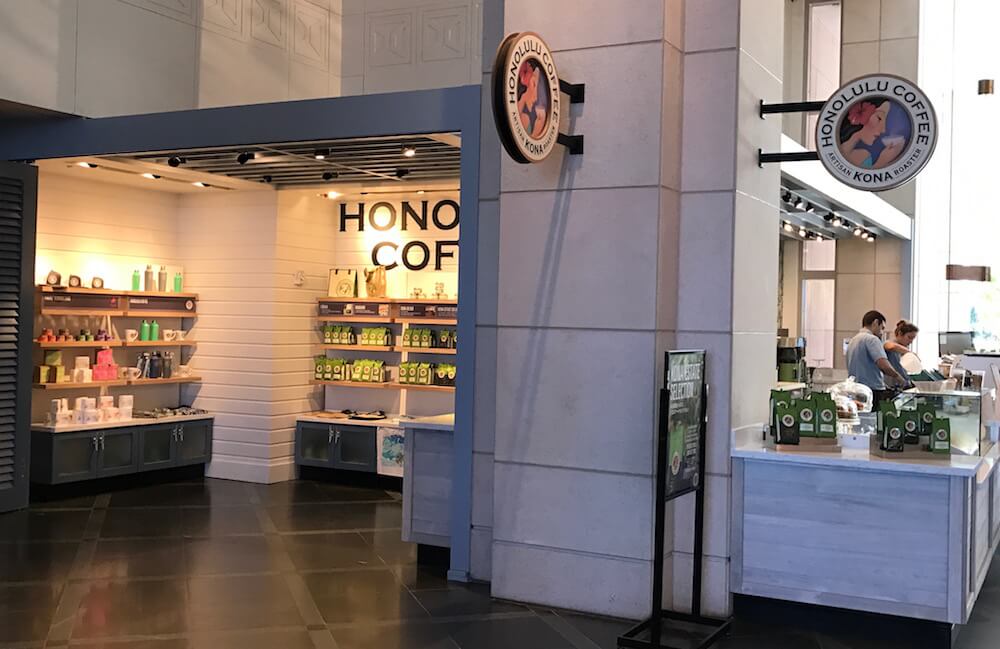 Honolulu Coffee Co. is a popular Hawaii coffee chain focused on a 'farm-to-cup' philosophy. Their coffee beans are grown on their prized Kona coffee farm, on the slopes of Mauna Loa volcano on Hawaii Island. To have Honolulu Coffee Co. in the Prince Waikiki lobby is super convenient and a major score for caffeine lovers.
The Prince Waikiki remains one of my favorite Oahu hotels, and I've returned many times after this for a staycation. It's easy to see why it remains Trip Advisors #1 of 87 Hotels in Hawaii. This hotel is top of its class!
TIP: Not staying at Prince Waikiki but would love to experience its beauty? Book a Resort Pass, choose from Prince Waikiki Pool Day Passes or Cabana Packages.
SEARCH: Prince Waikiki Trip Advisor Rates
---
---
Disclosure: The Hawaii Admirer will earn a small commission for purchases made using the affiliate links on this website. Mahalo [Thank you] for your support!