There's more than one way to get from Waikiki to Oahu's North Shore. Here's four Oahu North Shore itinerary suggestions.
The towns of Haleiwa and Kahuku form the 'borders' into Oahu's North Shore region. The North Shore itineraries I'm about to suggest begin in Waikiki (south) and lead to either Haleiwa (west entry point) or Kahuku (east entry point), with ideas for stops along the way.
Routes 1 and 2 are best if you're short on time, cherry-pick your favorite stops. Routes 3 and 4 pack a lot in and will be full days from sunrise to sunset. Remember, you can always do Kailua (Route 3) and Oahu's South Shore (Route 4) on separate trips. You can also combine Routes, take one Route up and one Route (in reverse) to get back.
You could also consider staying on Oahu's North Shore for 1-2 nights, this would allow you to take your time traveling up and back. There are only two traditional hotels on the North Shore, Courtyard by Marriott Oahu North Shore and Turtle Bay Resort. Alternatively, look at vacation rentals.
TIP: For affordable car hire, book online with Discount Hawaii Car Rentals. Choose from a variety of brands and vehicle types. They have no booking fees, no pre-payment, and no cancellation penalties! Convertibles and Jeeps are popular options.
North Shore Itinerary Route 1
The Quick & Dirty
Waikiki to Haleiwa via the Interstate H1 (West) and H2 (North)
.
This is the quickest way to drive from Waikiki to Oahu's North Shore, direct to the surf town of Haleiwa. The majority of this journey is on the Highway, but it can incorporate a lot of main attractions.
ROUTE 1 STOPS:
If you have limited time on holidays, you could squeeze in Pearl Harbor Historic Sites en route. This would add a couple of hours to the itinerary, plan accordingly.
RELATED >> What Is the Best Way to See Pearl Harbor?
Within close proximity to Pearl Harbor is Aloha Stadium, home to Hawaii's biggest open-air Swap Meet & Marketplace.
Shopaholics might want to take a short detour over to Waikele Premium Outlets, Oahu's only outlet stores.
This route passes Dole Plantation, one of the last remaining pineapple fields in Hawaii. It's the perfect place to take a break and try the famous Dole Whip dairy-free soft-serve.
ROUTE 1 BONUS IDEAS:
About 20-minutes into the drive from Waikiki is the magical Moanalua Gardens. It's a beautiful green space with a stunning Hitachi tree (large monkeypod tree). Buy a bag of food to feed the fish and ducks at the pond.
Venture off the beaten track to Mokuleia Beach Park (this will require backtracking to Haleiwa). It's a small North Shore community with a lovely beach park, polo field, and airfield where skydiving companies operate.
North Shore Itinerary Route 2
Scenic Highway
Waikiki to Kahuku via the Interstate H1 (West) and H3 (East); Kahekili and Kamehameha Hwy.
The main draw of this circuit is the Interstate H3 (East), a highway that took 37 years and $1.3 billion to build (see cover image). At the end of Interstate H3, you will pass through the Tetsuo Harano Tunnel arriving at a stunning view of Kaneohe Bay on the east side of Oahu. Follow the Highways from there, single-lane roads that hug the coastline all the way to the North Shore.
ROUTE 2 STOPS:
About half-way to Kahuku is Waiahole Poi Factory. Taste homemade Native Hawaiian food, including the famous Sweet Lady of Waiaole kulolo dessert, at this former poi factory now restaurant and art gallery.
Further north is Tropical Farms, a macadamia nut farm with a country gift store. Take a breather and enjoy free coffee and mac nut samples.
Kualoa Ranch in Kaneohe is a hub for outdoor activities. It's well-known for Hollywood Movie Site Tours but there's also Horseback Rides, ATV (All-Terrain Vehicle) and UTV (Utility Task Vehicle) Adventures, Jurassic Jungle Expeditions, E-Bike Tours, Jurassic Valley Zipline (Flying Fox), Secret Island Beach Activities, Kayak Adventures, and Taste of Kualoa Farm Tours. In other words, a whole lot of fun! Tour departures begin around 7-8am with regular departures up until around 4pm, but they can sell out weeks in advance. Some activities are longer than others. Rather than chance it, book your Kualoa Ranch Tours ahead of time and factor it into your road trip. When my Dad came to visit, we locked in the Jurassic Valley Zipline for a midday start and enjoyed a leisurely drive up in the morning.
---
Kualoa Ranch Tours
---
Across the street from Kualoa Ranch is Kualoa Regional Park, perfect for a picnic lunch. This parkland has an amazing panorama of Mokolii, a small island known locally as Chinamans Hat.
Continue north to the Polynesian Cultural Center in Laie. It's a 42-acre park featuring six themed Island Villages, each one has the traditional look and feel of the islands it represents (Hawaii, Tonga, Samoa, Aotearoa/New Zealand, Fiji, and Tahiti). It opens at 11:45am, there's a Canoe Pageant around 2:30pm, and most activities finish up by 5pm. There's a variety of luau and buffet options between 4-6pm and Ha: Breath of Life Show 7:30-9pm. There are multiple packages. Booking at least 10 days in advance can save you up to 15%.
RELATED >> Top Things to Do at Polynesian Cultural Center
Even if you opt-out of the Polynesian Cultural Center, check out the Hukilau Marketplace. It's a public dining and shopping mecca outside the park entrance. There's a mix of brick-and-mortar retailers and food trucks. Try Penny's Malasada's for custard-filled donuts, Tita's Grill for spicy garlic shrimp, or Kiwi Style Fish 'n Chips for crispy seafood, potato scallops, and hot chips with chicken salt!
Eventually, you'll hit the final destination of Kahuku. A variety of 'shrimp shacks' serving finger-licking garlic shrimp plates are what put this town on the map. Look out for the Fumi Shrimp Farm location, a blue building with outdoor seating. This is my pick! The spicy garlic shrimp is incredible, and they also serve Dole Whip.
ROUTE 2 BONUS IDEAS:
You could also add a detour to Kailua (as shown in Route 3) to Route 2.
North Shore Itinerary Route 3
Pit Stop in Kailua
Waikiki to Kahuku via Interstate H1 (West); Pali, Kahekili and Kamehameha Hwy.
Kailua on Oahu's east coast is an idyllic setting, much-loved by locals and visitors. You might have heard of Lanikai and Kailua Beach? They're ranked as top beaches in the nation! Visit this region to enjoy the gorgeous beaches, participate in ocean activities and munch on ono (delicious) eateries.
ROUTE 3 STOPS:
Follow the Interstate H1 (West) to the Pali Highway, eventually detouring to the Nuuanu Pali State Wayside. Make a short stop to take in the dramatic views and to read about the Battle of Nuuanu, a significant historical event that took place here.
Continue on to Kailua where you can hang out in town or head to the beach. Kalapawai Market has two locales, one at Kailua Beach Park (great for grabbing snacks to-go) and another in the heart of Kailua town (perfect for dining-in).
If you love Hawaiian poke make a special stop for it at The Hibachi at Windward Town & Country Plaza.
Don't miss seeing the iconic Mokulua Islands or 'The Mokes' as the locals call them. These two islets sit off the coast of Kailua and draw avid kayakers from far and wide. Hire kayaks or book guided kayak tours.
---
Kailua Tours
---
ROUTE 3 BONUS IDEAS:
Stock up on road trip supplies at Whole Foods Market in Kailua. The market carries a lot of cool locally-made products. There's even the Windward Bar inside, perfect for a quick cold one (for the non-drivers).
Get your blood pumping on the Lanikai Pillbox Hike, a medium-level narrow 30-minute trail that crescendos with two military bunkers and a premium view over Lanikai Beach and the Mokulua Islands. Warning, parking can be tricky!
Kailua is known for its talented local artists and designers, and many of them have one-of-a-kind boutiques in town. Check out Coco's Trading Post (modern aloha lifestyle shop), Under A Hula Moon (home decor, resort wear, and accessories), Manuhealii (Hawaiian clothing store), Muumuu Heaven (women's clothing store), Olive Boutique (beach-chic fashions).
From Kailua make your way to the North Shore via the Kahekili and Kamehameha Highways. You can also choose any of the stops mentioned in Route 2 from this point forward.
North Shore Itinerary Route 4
Longest & Most Scenic
Waikiki to Kahuku via Interstate H1 (East); Kalanianaole and Kamehameha Hwy.
My favorite Oahu North Shore road trip! It's the long way around the island taking in the South Shore. If you choose this option you'll see some of the best sightseeing Oahu has to offer. The main difference in this itinerary is the addition of the Kalanianaole Highway upfront, a tour of the south-east corner of the island.
Traversing the Kalanianaole Highway will introduce you to the neighborhoods of Aina Haina, Hawaii Kai, and Waimanalo.
ROUTE 4 STOPS:
Jack's Restaurant at Aina Haina Shopping Center is a small local diner famous for breakfast and biscuits.
Hawaii Kai is a marina community popular for watersports including snorkeling at Hanauma Bay. If you don't have time to stop and snorkel, there's a fantastic lookout over the bay.
Keep your eyes peeled for Koko Head Crater and the tiny figures hiking up the steep Koko Crater Trail (1,000+ steps to the top).
As you meander around the coastline take in the sights of Halona Blowhole and Halona Beach Cove, the location where a romantic scene 'From Here to Eternity' was filmed.
Then there's Sandy Beach a bodyboarder's dream (Obama loves to bodysurf here).
Next up, the Makapuu Point Lighthouse Lookout Trail offers a short paved hike to the lighthouse. As you leave this car park pay close attention, the coastline reveals itself in all its glory!
Sea Life Park is just around the corner, it offers interactive programs, shows, and exhibits. Popular things to do are the Dolphin, Sea Lion and Shark Encounters (reserve early).
Cap off this south-east exploration at Waimanalo Beach. Stretching 5mi (8km), this is Oahu's longest beach. It's is a dreamy landscape with ocean views of Manana (Rabbit) Island and mountain views of the majestic Koolau range. Paradise!
ROUTE 4 BONUS IDEAS:
As you begin your North Shore itinerary from Waikiki head to Kahala Avenue for a real estate drive-by. Kahala is in the Top 10 wealthiest zip codes in America, home to some jaw-dropping million-dollar mansions.
Before arriving at Waimanalo Beach, hit up the nearby Ono Steak and Shrimp Shack for an eat-in meal or a takeaway plate of food to enjoy down on the beach.
Once again, this itinerary joins the Kahekili and Kamehameha Highways. You could also add a detour to Kailua (as shown in Route 3) to Route 4. You can also choose any of the stops mentioned in Route 2 from this point forward.
And there you go! Four ways to Oahu's North Shore.
We've only just touched the surface, and haven't even mentioned what to do once you get to Haleiwa (west entry point) or Kahuku (east entry point) on Oahu's North Shore. That will be the content for another blog post.
TIP: The Google Maps app is great for directions. While the destinations are either Haleiwa or Kahuku, sometimes the app will show you a different way to get there. Make sure you are following the Highways outlined.
RELATED >> How Can I Use My Mobile Phone in Hawaii?
---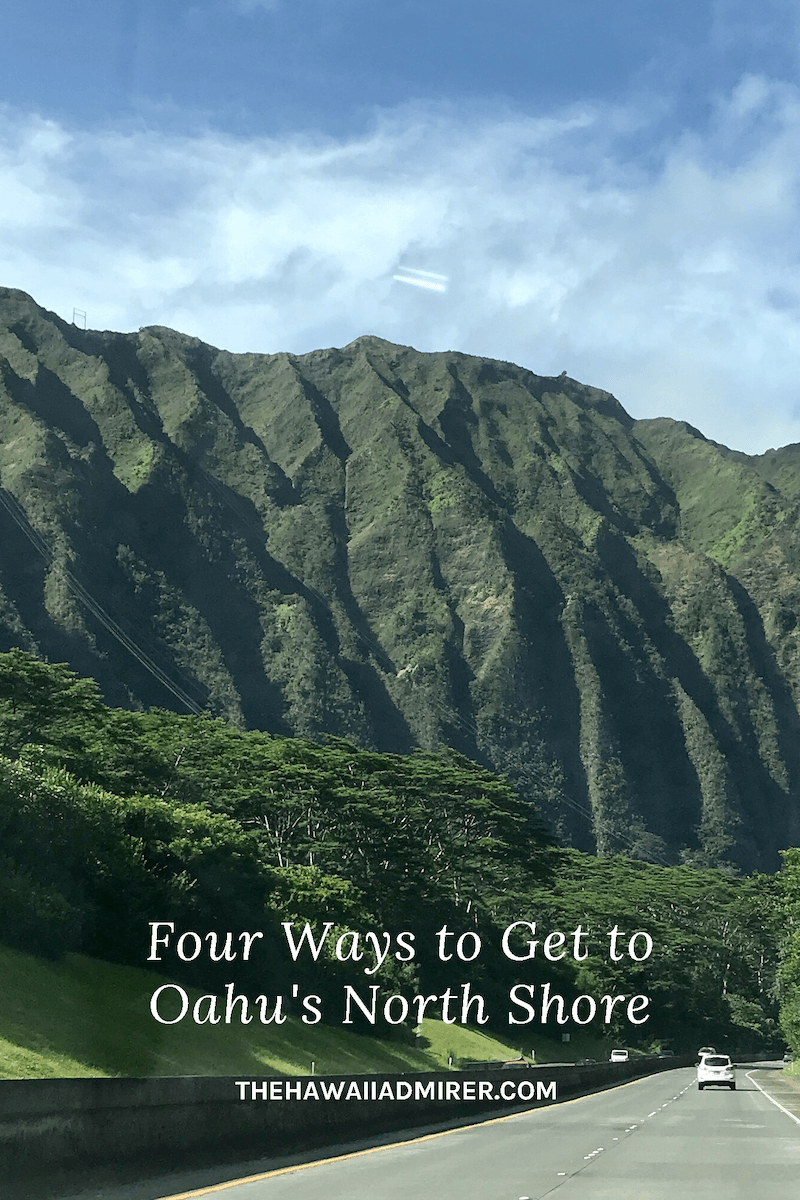 ---
<i><b>Disclosure:</b> The Hawaii Admirer will earn a small commission for purchases made using the affiliate links on this website. Mahalo [Thank you] for your support!</i>