With limited time in Hawaii, holidaymakers need to maximize Every. Single. Day. That's why the North Shore Beach Bus is such a great option! It's a North Shore tour and Hanauma Bay tour, all-in-one.
It gives guests quality time on Oahu's famous North Shore beaches AND an afternoon of snorkeling down South in Hanauma Bay.
Follow the tour itinerary below, and look out for the SPECIAL DISCOUNT at the end of the post 🙌
North Shore Beach + Hanauma Bay Tour
The tour kicks off with Waikiki hotel pick-ups from 7:20am. The North Shore Beach Bus vans are white, and group sizes are kept small with 15-22 seater vehicles.
You'll meet your Driver AND Guide. North Shore Beach Bus invests in two people, one focuses on driving (very important) and the other gives commentary along the way.
The owner of the business Paul was our Driver and Sergio our was Guide (above), they're awesome!
As someone who has worked for Hawaii Tourism, I thought I knew a lot about Oahu but I learned a tonne of new stuff on the hour-long drive. Like…
The island's soil has a high level of iron, and that's why local pineapples taste so sweet!
The scenic H3 interstate highway took THIRTY years to build.
Jack Johnson went to Sunset Beach Elementary School 🙂
On approach to Oahu's North Shore Sergio gave us the lowdown on Hawaii's surf culture setting the scene for our first stop, Banzai Pipeline.
Randomly, our North Shore tour hit the World Surf League jackpot. Billabong Pipe Masters was on!
This added to the excitement of our tour, but surfing event or not, you'll always get a buzz from standing on this famous beach. These waves barrel in and break close to shore, and are only ridden by the most experienced surfers.
Next stop, Waimea Bay.
Everyone is encouraged to hang loose on this gorgeous beach, there's time allocated to swim, sunbake, and stroll along the sand.
Please note, Oahu's North Shore surf is seasonal. In Hawaii's winter (Nov-Apr), this beach is a prime spot for viewing professional surfers riding waves as high as 40ft (12m). In summer (May-Oct), it's calm providing the perfect environment for splashing around.
In true Hawaii-style, a rainbow appeared.
By this time we'd worked up an appetite, and like clockwork, we started making our way to lunch at Tsue's Farm. It's a beautiful recreation area home to farm animals like rabbits, ducks, and turtles!
Lunch is at guests' own expense. The plate lunches are the best! Choose from coconut, spicy, or garlic shrimp (my selection) to shredded Kalua pig, homemade teriyaki chicken or a veggie stir-fry. All dishes are served with rice, pineapple, and greens tossed in a lilikoi (passionfruit) dressing. It was a delicious feed.
The next part of the tour was a real highlight for me. Guests are given the opportunity to stand-up paddleboard or kayak on the Anahulu River. Note, these activities are optional and are an additional cost.
Here's me trying to figure out which activity to choose (the toughest part of the day) 🤔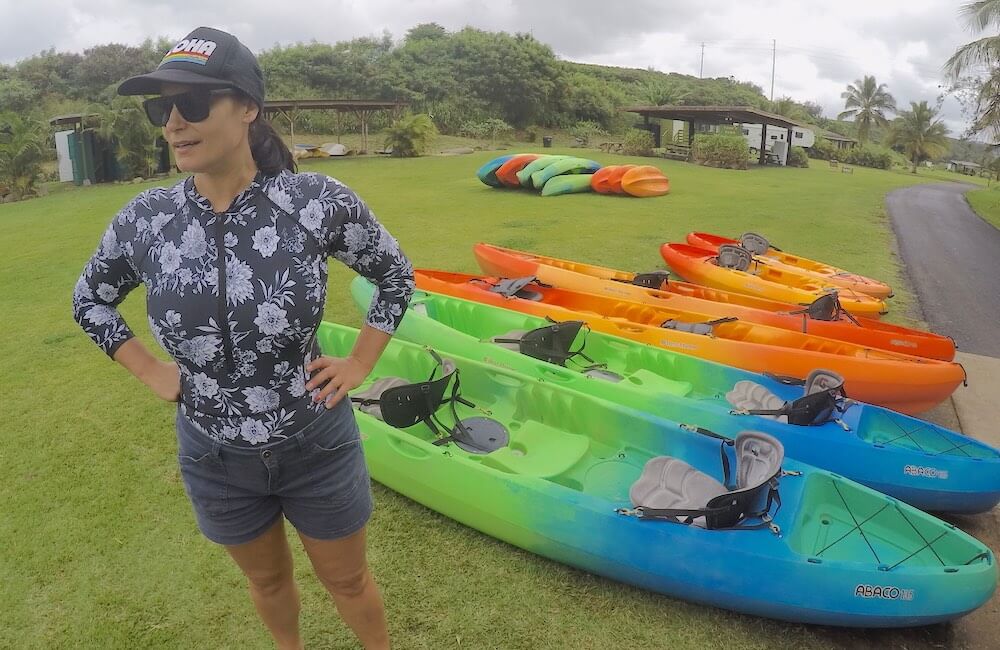 The majority chose stand-up paddleboarding, we went with kayaking. Check out the smiles!
If water activities aren't your thing, feel free to just kick back and relax.
Tsue's Farm also sells shave ice but we were told to hold off on dessert. This was life-saving advice because our next destination was Dole Plantation.
Whatever you buy at Dole Plantation is at your own expense, I couldn't resist a Pineapple Float. A warning to all pineapple lovers, you are going to lose it at the gift shop LOL.
After the sugar hit, we were back on the road. Eventually, the tour heads south along Oahu's stunning east coastline. Manana Island (Rabbit Island) is just one of the many sights you'll see!
North Shore Beach Bus has carefully crafted the logistics of this tour. Guests are dropped off at a local beach rental company where they're given snorkeling instruction and seamlessly fitted for a snorkel, mask, and fins. Without further ado, it's time for our Hanauma Bay tour!
Hanauma Bay is Oahu's premier snorkeling destination, a designated Marine Life Conservation District. Take in the primo view from the parking lot, it's like something out of a movie… Oh wait, it actually is! Has anyone seen Elvis Presley's film Blue Hawaii?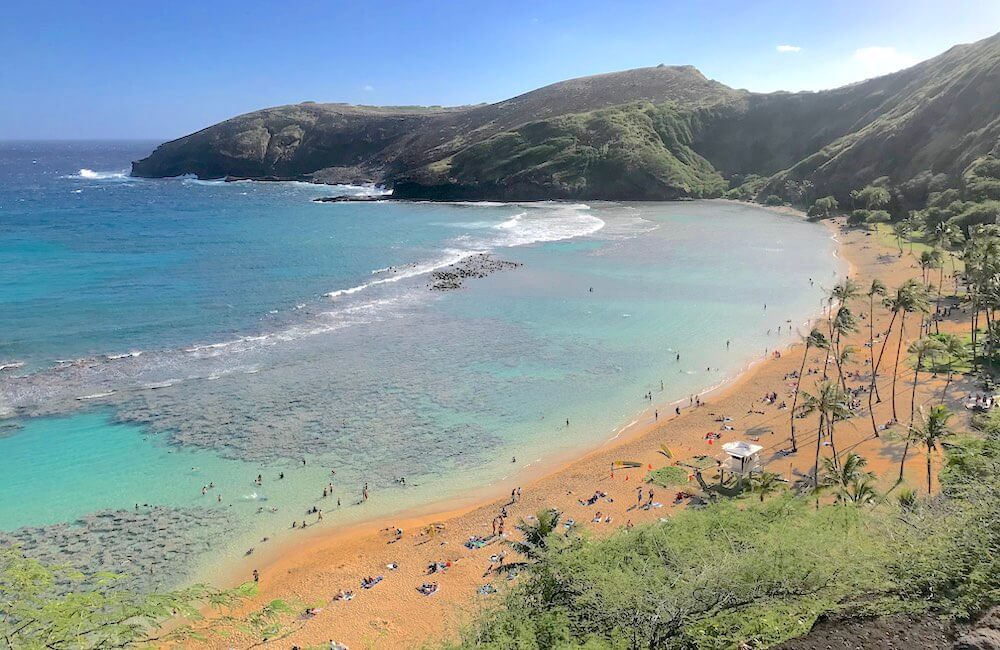 We watched a compulsory educational video designed to teach visitors how to best-protect the bay.
Now for the main event, snorkeling over living coral and alongside plenty of tropical fish. I even crossed paths with a Hawaiian green sea turtle, INCREDIBLE. There are octopuses, manta rays and moray eels also hanging about, but I didn't see them on this occasion.
You're pretty much left on your own for the Hanauma Bay tour portion. You can break away from the group (if you want to), and bask in the glory of this ocean playground for a few hours.
That just about wraps up this adventure! Everyone met up in the parking lot at a set time and Paul and Sergio re-appeared to escort us back to Waikiki. Upon reaching my drop-off point around 5:30 pm, I spotted another rainbow out the window. The ideal finale to a bright and cheerful day.
North Shore Beach + Hanauma Bay Tour is run by North Shore Beach Bus.
I've partnered with them to give fellow Hawaii Admirers a SPECIAL DISCOUNT – 10% OFF!
Visit https://northshorebeachbus.com, and hit BOOK NOW. Choose North Shore Beach + Hanauma Bay Tour and when it comes to the information page choose the Ohana Package – Adult or Children including the number of people and fill in the form as outlined:
Where it says "How did you hear about us?" pick "Other (Explain Below)" from the drop-down menu.
In the "Comments or Special Instructions" box type the words "The Hawaii Admirer"
Click the grey link "If you have a promo code enter it here", a box will pop up and type in the promo code: admirer10
The discount will show with a green tick! Then proceed to the payment 🤙🏽
If you have any troubles please email me: [email protected]
For those who book this North Shore + Hanauma Bay Tour, have an awesome day!
RELATED >> Top 10 Oahu Must Do's
Tour Review Disclaimer: The Hawaii Admirer was welcomed as a guest on the North Shore Beach + Haunama Bay Tour hosted by North Shore Beach Bus on 13 December 2018. All of the thoughts expressed in this article are my honest opinion.
---
---
<i><b>Disclosure:</b> The Hawaii Admirer will earn a small commission for purchases made using the affiliate links on this website. Mahalo [Thank you] for your support!</i>