Please step away from the all-you-can-eat smorgasbord, there's a wonderland of Waikiki cafes dishing up delectable breakfasts outside your hotel.
Breakfast is, by far, my favorite meal of the day. As a former Sydney-sider, weekend brunch was a mandatory event and I was absolutely spoiled for choice when it came to the city's cafe scene.
On my first few visits to Hawaii, I really struggled with breakfast in Waikiki. Don't get me wrong, the hotel buffets are sensational (some even have fried chicken on them) but after a few days your clothes start to feel tight and you begin craving a more portion-controlled experience LOL.
Thankfully, I eventually found the best cafes and restaurants killing it for breakfast in Waikiki.
BEST WAIKIKI CAFES:
---
1. Aloha Kitchen
432 Ena Rd, Waikiki | Daily 7:30am-2:30pm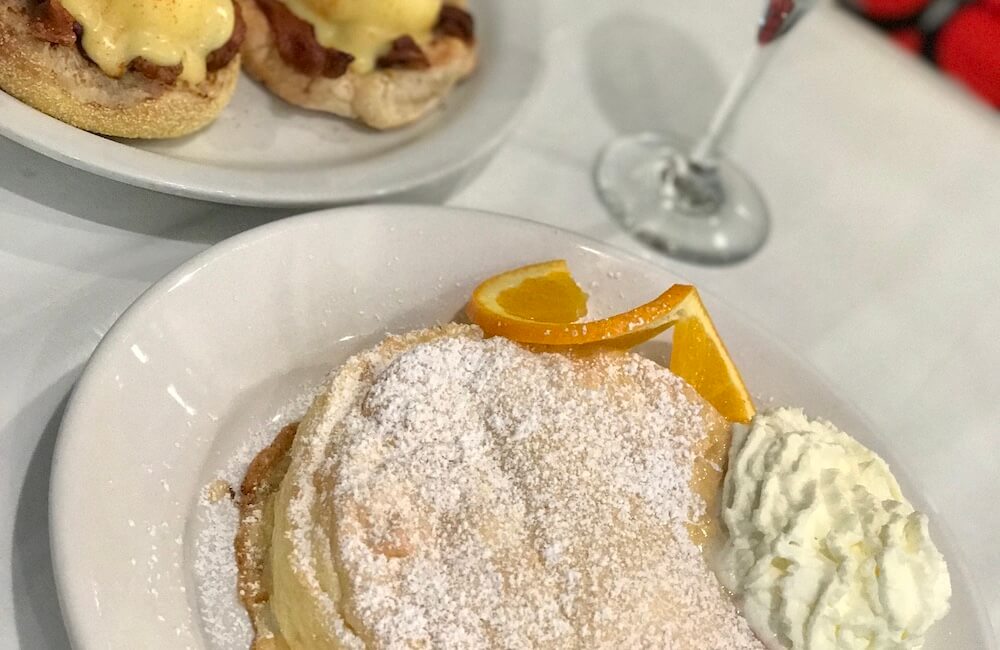 Aloha Kitchen is a cute cafe in Waikiki's backstreets famed for fruity souffle pancakes. Find a full spectrum of breakfast dishes from pancakes, omelets, and Eggs Benedict to waffles, French toast, and acai bowls. They make mimosas, too. Expect to wait a while be seated.
2. Ars Cafe
3116 Monsarrat Ave, Diamond Head | Mon-Sat 6:30am-6pm; Sun 8am-6pm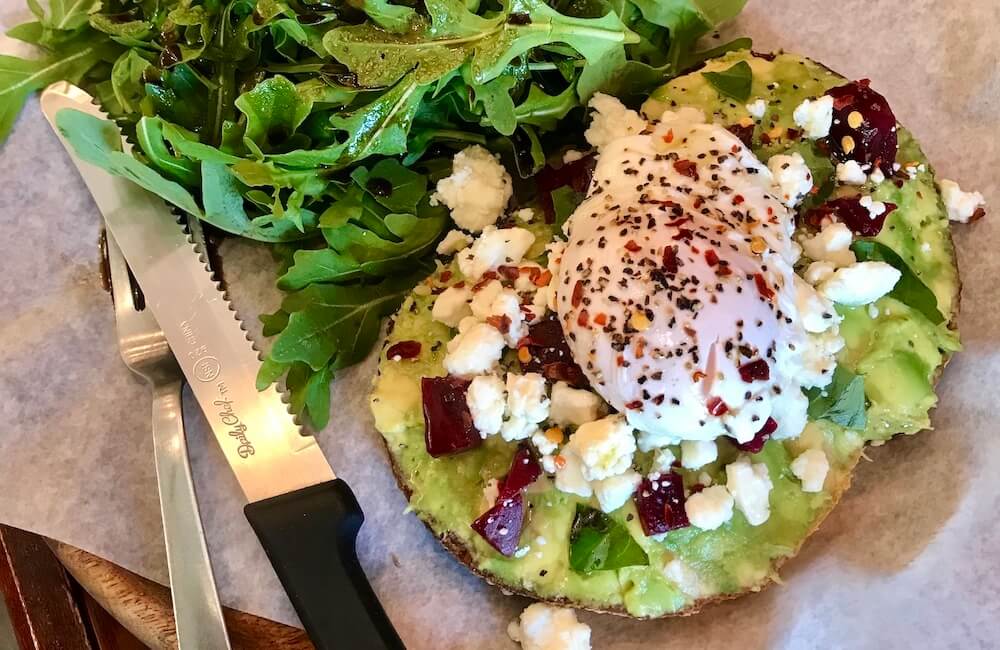 ARS Cafe Gallery is a specialty coffee shop and art gallery favored for their gourmet loaded toasts. I highly recommend the Avocado Toast with egg and topped with greens, beetroot, and feta (pictured). Also, the homemade gelato and banana bread. It's on my Waikiki top breakfasts list, but it's technically in Diamond Head making it a great pre- or post-hike stop.
3. Barefoot Beach Cafe
2699 Kalakaua Ave, Waikiki | Daily 7am-8:30pm
Barefoot Beach Cafe the place to enjoy a relaxed meal on picnic tables by Waikiki's sandy shore. Try local favorites like Hawaiian Sweetbread French Toast, Loco Moco with Surfer's Fried Rice or Fish of the Day Hawaiian-Style. Musicians make the evenings extra-special providing local tunes (5:30-9:30pm). There's a Beach BBQ Buffet every Friday night.
4. Bills Hawaii
280 Beach Walk, Waikiki | Daily 7am-10pm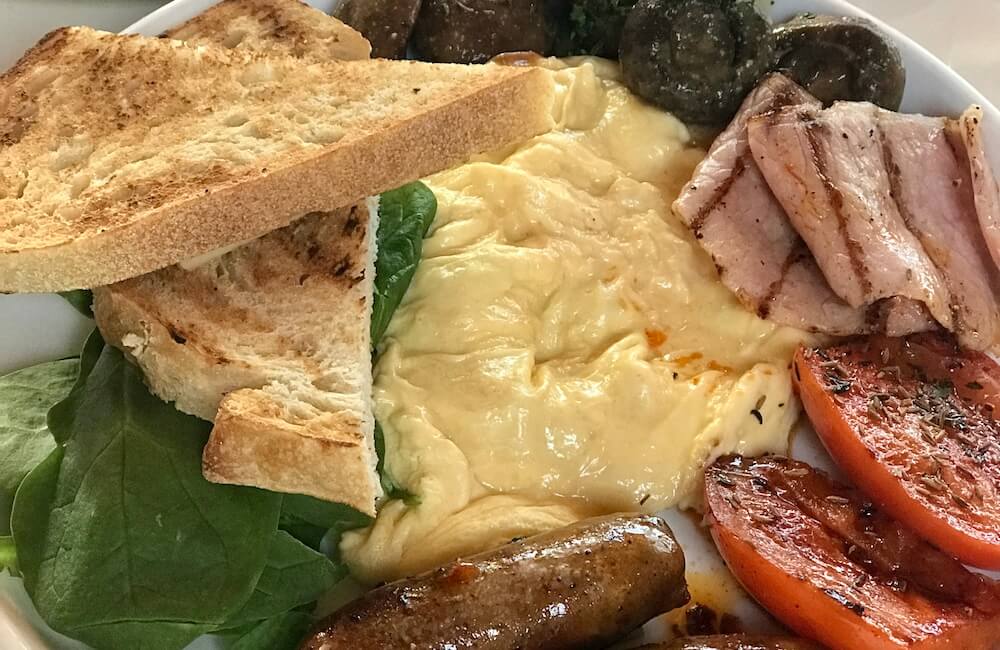 Bills Hawaii is a slice of Australia in Waikiki thanks to Bill Granger, an Aussie celebrity chef. Start with Bills Spiced Bloody Mary or a great tasting coffee! This cafe has mastered the art of Ricotta Hotcakes and Scrambled Eggs. It's home to Vegemite Toast and the Full Aussie Breakfast with Australian-style bacon. Add a side of halloumi, rare to find in Hawaii.
5. Cinnamon's at the Ilikai
1777 Ala Moana Blvd, Waikiki | Daily 7am-9pm
Cinnamon's at the Ilikai is a Mom and Pop restaurant from Kailua that expanded into Waikiki. Famed for hearty breakfasts in a lovely al fresco restaurant setting. They offer a large menu from award-winning Eggs Benedict, French toast and omelets to nachos, frittata and beef stew. Add a side of tater tots! Try a guava chiffon or red velvet white chocolate pancake stack.
6. Da Cove Health Bar
3045 Monsarrat Ave, Diamond Head | Tue-Sat 11am-9:30pm; Sun-Mon 4-9:30pm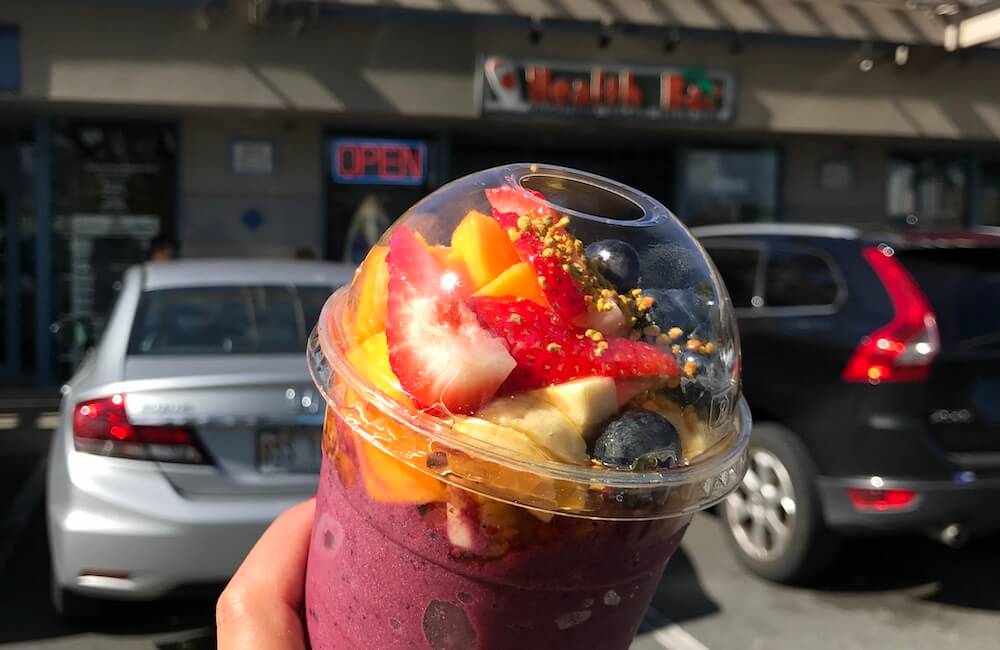 Da Cove Health Bar motto 'Live Healthier, Be Happier' says it all. The menu is nothing but goodness from acai and pitaya bowls, to fresh fruit smoothies and juices, green salads, local fish, and healthy sandwiches and wraps. The Chili Ahi Bun, seared ahi on a toasted baguette with tapenade and tomato jam, is really good. This spot is also in Diamond, making it a great pre- or post-hike stop.
7. Hawaiian Aroma Caffe
2300 Kalakaua Ave, Waikiki | Daily 6am-6pm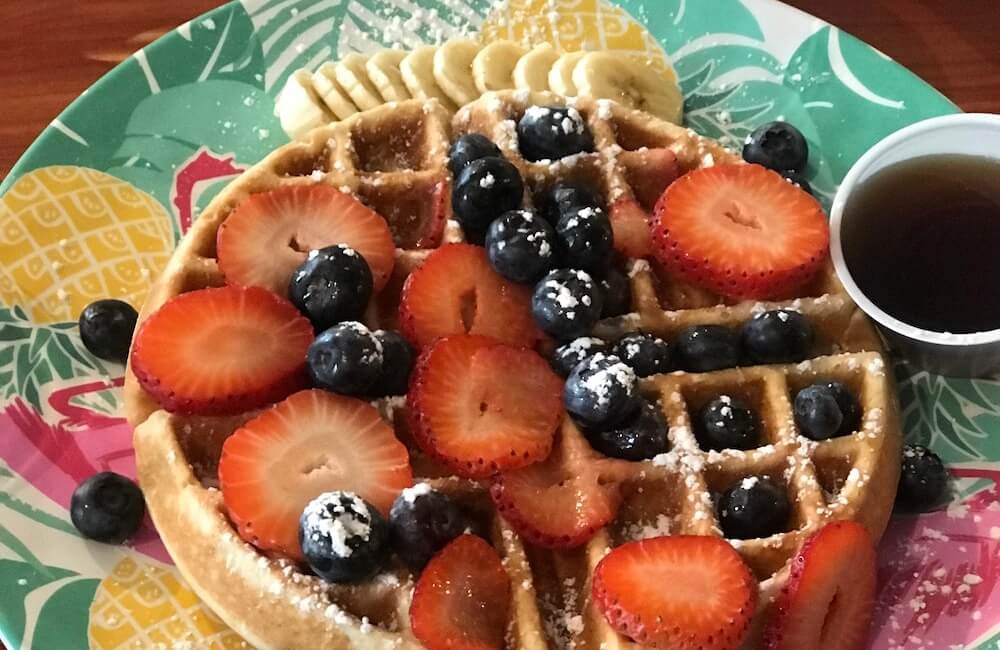 Hawaiian Aroma Caffe has four locations in Waikiki, the Kalakaua Ave cafe is the most central. Waffles are the specialty in this gorgeous local cafe chain. From muffins, bagels and cinnamon rolls, to croissant sandwiches, acai bowls, paninis, and egg and bacon plates, it's all local and delizioso! Wash everything down with a coffee, Italian soda, or cocktail.
8. Heavenly Island Lifestyle
342 Seaside Ave, Waikiki | Daily 6:30am-11pm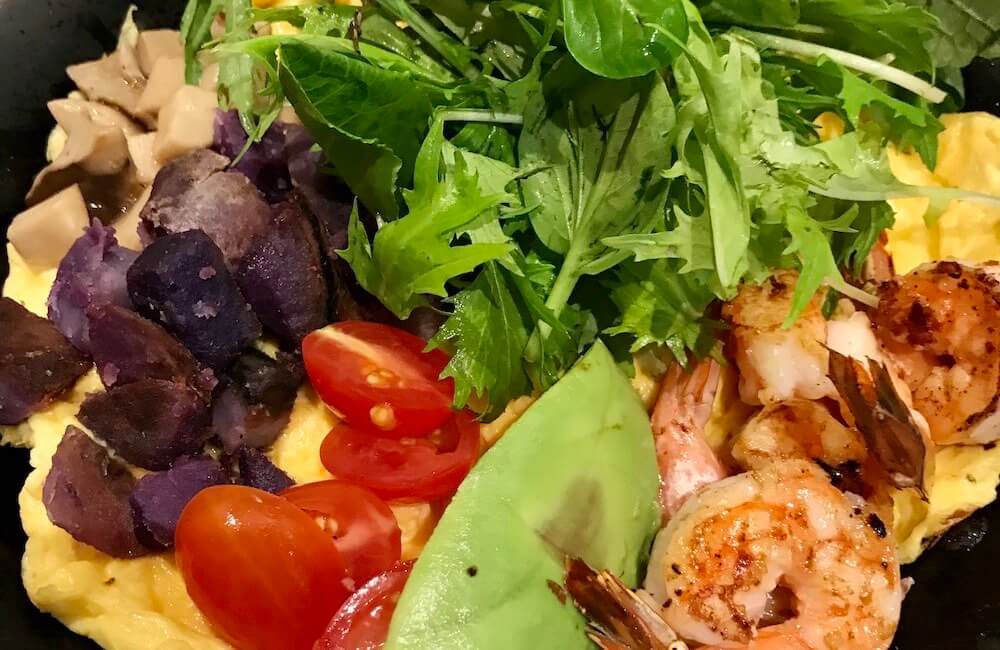 Heavenly Island Lifestyle is a health-conscious cafe that's local first, organic whenever possible. This spot sources high-quality ingredients from across the islands resulting in super tasty food, especially the Flat Omelet (pictured). Their Morning Veggie dish is said to help with jet lag recovery. This spot is perfect for the clean-eating visitor.
9. Tucker & Bevvy
2586 Kalakaua Avenue, Waikiki | Daily 6am-7:30pm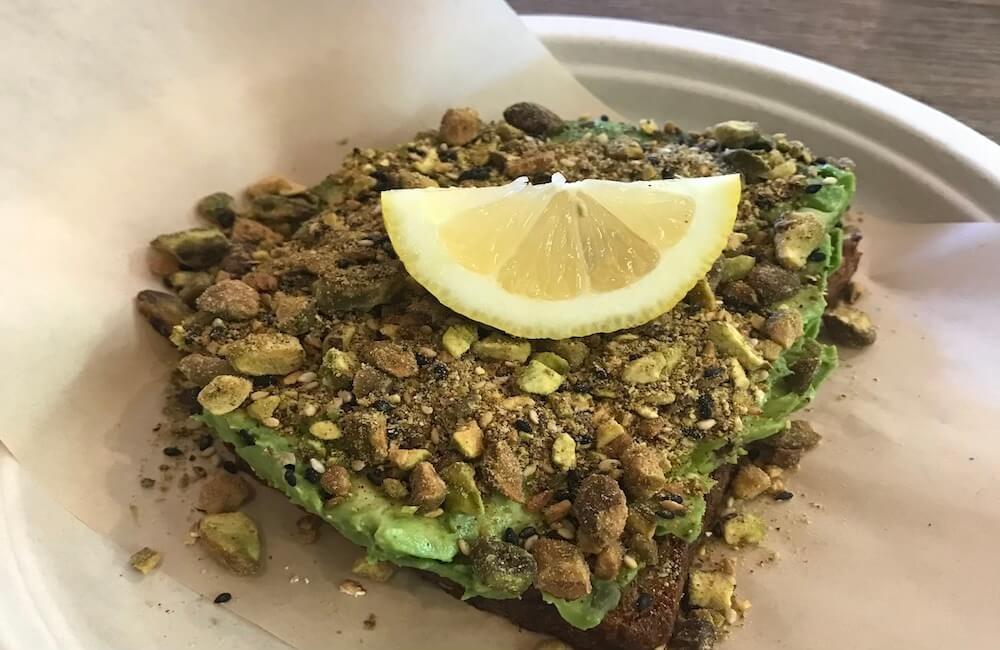 Tucker & Bevvy is the go-to for dukkah-dusted avo toast, hot-pressed sandwiches, and fresh juice. Fridges illuminated by the words Life's A Picnic line the wall of this cafe. They're chock-full of gourmet catering ideal for, you guessed it, a picnic. Tops for gluten-free folk. This is the Park Shore store; a second location with outdoor seating exists at the Hyatt Regency Waikiki Beach Resort.
10. Waikiki Beachside Kitchen
2556 Lemon Rd, Waikiki | Daily 7am-11pm
Waikiki Beachside Kitchen is a hole-in-wall backpackers' food outlet serving a variety of made-to-order dishes for under $10! Great for a hangover, think Loco Moco, big breakfasts and egg and bacon English muffins. They also make a great Pancake Special. A Waikiki breakfast winner, especially for the thrifty holidaymaker.
RELATED >> Hands Down Best Coffee in Waikiki
---
---
<i><b>Disclosure:</b> The Hawaii Admirer will earn a small commission for purchases made using the affiliate links on this website. Mahalo [Thank you] for your support!</i>
SaveSave
SaveSave