Tucked away in quiet pockets across the city of Honolulu are some wonderful wine bars. These intimate venues are off the typical tourist trails but worth seeking out for their ambience, impressive wine lists and accompanying bites to eat.
01. Agave & Vine
02. Amuse Wine Bar
03. Appetito Craft Pizza & Wine Bar
04. Cattleya Wine Bar
05. Foodland Farms The Bar
06. Formaggio Wine Bar
07. La Vela Wine Bar
08. Off The Wall
09. The Tchin! Tchin! Bar
10. Tiki's Grill & Bar
I'd like to thank my sommelier friend Taylor Clark for contributing to this story!
---
01. Agave & Vine
Find it at Ala Moana Center, 1450 Ala Moana Blvd, Honolulu
Open Mon-Thu 10am-10pm; Fri-Sat 10am-Midnight; Sun 10am-8pm
Happy Hour Daily 3-6pm
Agave & Vine is a Tequila and Wine Bar in The Lanai food court at Ala Moana Center. They offer wines by the glass, tequila-filled cocktails, specialty mocktails and beers. Always check the great value Daily Specials, from "Mexican Mondays" with $4 Corona's to "Finally Fridays" with $4 Jack, Jim, and Jameson shots. They don't serve food but you can bring it in from any of the surrounding vendors.
Try Tequila Poppers, Grand Leyenda infused with hibiscus, blueberry or jalapeño pineapple ($5).
02. Amuse Wine Bar
Find it at Honolulu Design Center, 1250 Kapiolani Blvd, Floor 2, Honolulu
Open Tue-Sat 5-10pm
Happy Hour Tue-Sat 5-6pm ($50 Wine Tasting Card for $30)
Live Music Tue-Sat 7-9pm
Amuse Wine Bar has an Art Deco interior, exactly what you'd expect to find inside a furniture showroom at the Honolulu Design Center. Sleek self-serve wine machines dominate the space, dispensing 30 ml (1 oz) pours from over 80 wines. It's the best place for any oenophile, novice, or beginner curious about wine. Insert your prepaid card, select your red, white or rosé and enjoy!
Try their "love at first bites" including baked brie, charcuterie + cheese plates and garlic truffle fries.
03. Appetito Craft Pizza & Wine Bar
Find it at OHANA Waikiki East, 150 Kaiulani Ave, Honolulu
Open Dinner 2-10pm
Happy Hour Daily 2-6pm
Appetito Craft Pizza & Wine Bar features a perfect balance of old and new world wines across 100 different varietals, along with homemade limoncello, craft beers and island-themed cocktails. Open-air seating runs the length of this Italian restaurant letting in the delicate Honolulu breeze. Complete your wine experience with a hand-tossed pizza, straight out of the kiawe wood oven.
Try a glass of Domaine de Pellehaut Rosé, it's farmed organically in the Gascogne region of France ($14).
04. Cattleya Wine Bar
Find it at Halekulani Hotel, 2199 Kalia Rd, Honolulu
Open Mon-Sat 11:30am-9pm; Sun 4:30-9pm
Happy Hour N/A
Cattleya is Halekulani's fancy wine bar inside Orchids restaurant. It features Mediterranean tapas-style cuisine paired with curated offerings of global wines. The coravin temperature-controlled wine-dispensing system gives guests the ease of tasting expensive, world-class wines without committing to an entire bottle. Guests are seated at a beautiful wooden communal table overlooking the ocean.
Try the Charcuterie Plate (pictured) with cacciatorini salami, mortadella, speck parmesan and fontina, smoked gouda dip, olives and baby carrots ($28).
05. Foodland Farms The Bar
Find it at Ala Moana Center, 1450 Ala Moana Blvd, Honolulu
Open Daily 5am-10pm
Happy Hour N/A
Foodland Farms The Bar is in the centre of an Ala Moana Center supermarket, an unsuspecting place to find one of Honolulu's best wine bars! Whether you need groceries or not is irrelevant, I'll go here just for drinks and a snack to eat! Grab food items from anywhere in the store, like fried chicken from the hot bar, and bring it back to the bar where they'll ring it up so you can enjoy right away.
Try the Field Grand Selection Board (pictured) served with dried figs, caper berries, Marcona almonds and a choice of sliced baguette or lavosh ($15.99).
06. Formaggio Wine Bar
Find it at Market City Shopping Center, 2919 Kapiolani Blvd, Honolulu
Open Mon-Thu 5:30pm-Midnight; Fri-Sat 5:30pm-1am; Sun 5-11pm
Happy Hour Mon-Sat 5:30-7pm and 10-11pm; Sun 5:30-7pm
Live Music Nightly
Formaggio Wine Bar is a local neighbourhood favourite about ten minutes drive from Waikiki. There are over fifty fine wines on the menu, plenty of them from California. Enjoy wine by the 60 ml (2 oz) or 180 ml (6 oz) glass or by the bottle, complimented by a reasonably-priced food menu. With dim lighting and vineyard vibes, this place feels like you're drinking in someones private wine cellar.
Try a Special Flight if available, usually served as three 60 ml (2 oz) glasses of selected wines.
07. La Vela Wine Bar
Find it at Waikiki Sand Villa Hotel, 2375 Ala Wai Blvd, Honolulu
Open Daily 6pm-2am
Happy Hour 6-8pm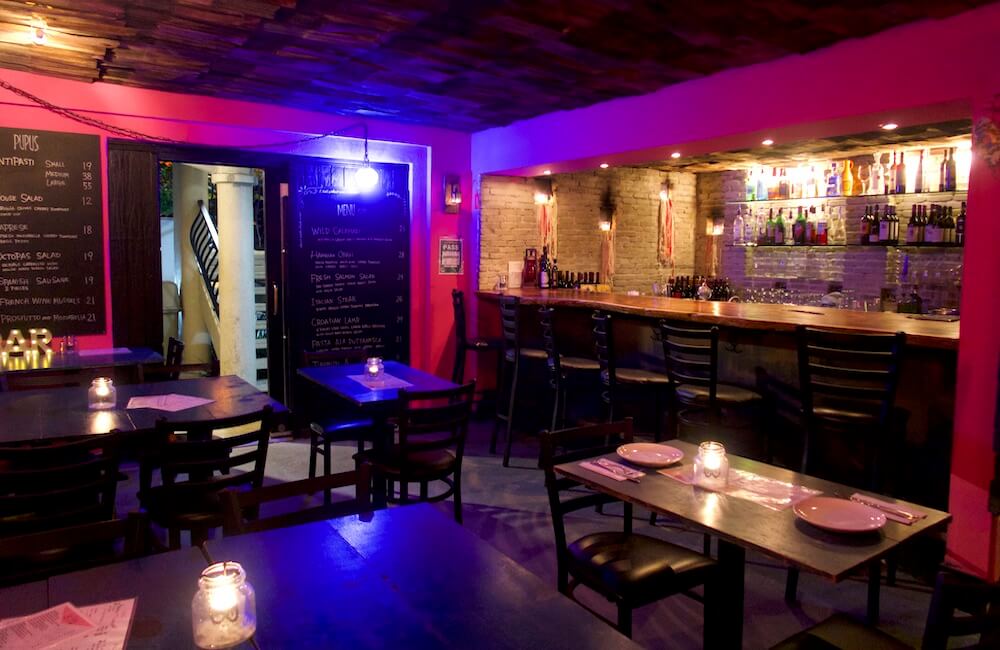 La Vela Wine Bar, formerly Il Buco, is a wine bar concept in Waikiki. Hidden out the back of the Waikiki Sand Villa Hotel by the swimming pool, it's like walking into an off-the-grid European café. This romantic spot has a rustic feel perfectly matched to the Italian-heavy wine list and delicious Italian cuisine. The pace is slow, so sit back and relax with a glass of vino in this intimate venue.
Try the Tiramisu for dessert, and ask about their spa treatments available upstairs!
08. Off The Wall
Find it at South Shore Market, Ward Village, 1170 Auahi St, Honolulu
Open Mon-Thu 11am-11pm; Fri-Sat 11am-Midnight; Sun 11am-6pm
Happy Hour N/A
Off The Wall is a craft beer and wine bar with a young vibe in Kakaako, fifteen minutes drive from Waikiki. Drinks are based on a card system where you can pour your own glasses of craft beer and wine "off the wall" and refill at your own leisure. The owners hail from South America and the tapas-style menu is reminiscent of their roots. There's limited indoor and outdoor seating.
Try the "deal of the week" only accessible to those who join the VIP List.
09. The Tchin! Tchin! Bar
Find it at 39 North Hotel St, Honolulu
Open Tue-Sat 5pm-Midnight
Happy Hour N/A
Live Music Nightly
The Tchin! Tchin! Bar is a hip and happening rooftop bar in Chinatown, with an easy-to-miss entrance. Once you find it, head upstairs to the main room with high ceilings and exposed brick walls and out to the lanai (balcony) by the plant wall. On atmosphere, service and wine selection this place can't be beaten. They also serve artisan cocktails, beers and yummy small plates.
Try the Flight Menu beverages, a curated selection of four glasses of wine for a good price.
10. Tiki's Grill & Bar
Find it at Aston Waikiki Beach Hotel, 2570 Kalakaua Ave, Honolulu
Open Daily 7am-Midnight
Happy Hour Daily 2-5pm
Live Music Nightly
Tiki's Grill & Bar makes the list for one reason, or rather, one day. Wine Down Wednesdays! Head to this lively bar on Waikiki's main street overlooking the beach on Wednesdays for half-price on all bottles and glasses of wine from 5pm-close (excluding house wines). Stay for live music, open-air seating, ocean views and sensational sunsets.
Try ordering a bottle bubbles on Wine Down Wednesdays, that's what I always do 🙂
SEARCH ACTIVITY SHOP: Beer Tour By Shared Bike in Honolulu (Oahu); Brew n Bites Art Tour (Oahu); Wine Tasting at Oeno Winemaking (Oahu); Ko Hana Rum Tour and Tasting (Oahu)
RELATED: Best Bars for Cocktails in Waikiki
---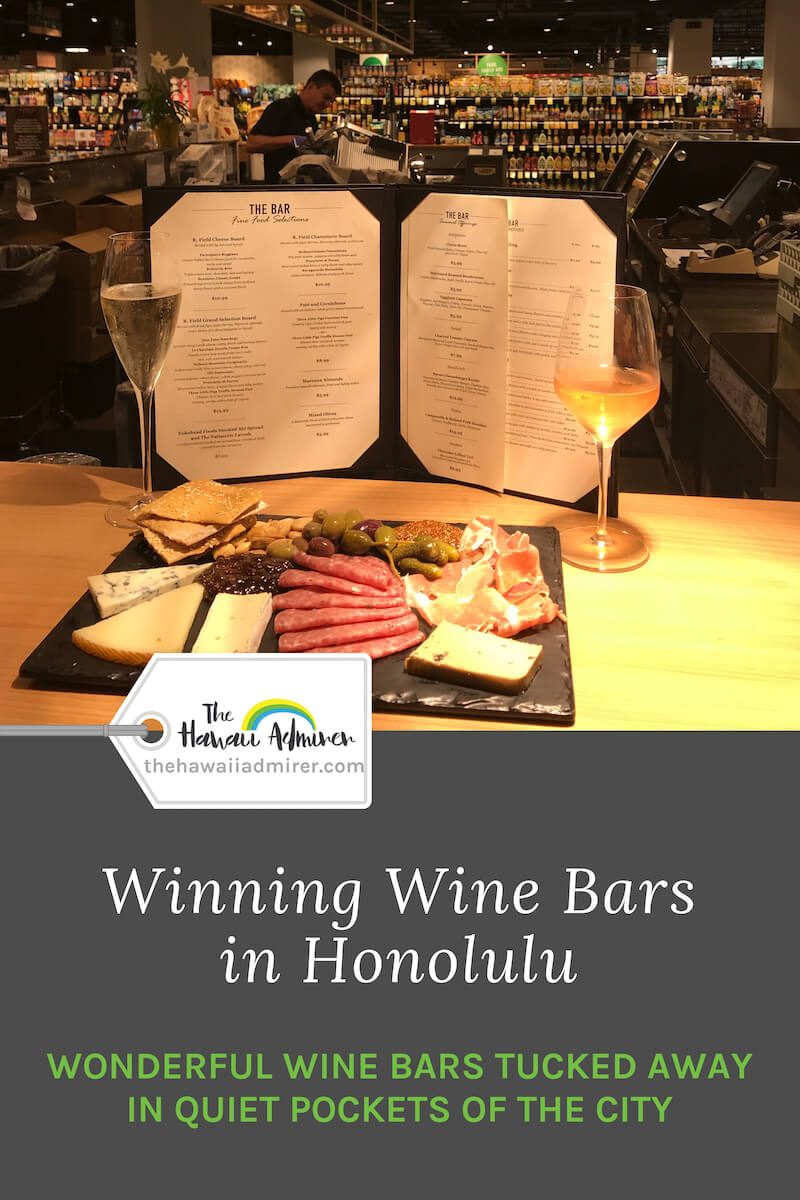 ---
Disclosure: The Hawaii Admirer will earn a small commission for purchases made using the affiliate links on this website. Mahalo [Thank you] for your support!