Tucked away in quiet pockets across the city of Honolulu are some wonderful wine bars. These intimate venues are off the typical tourist trails but worth seeking out for their ambiance, impressive wine lists and accompanying bites.
BEST WINE BARS IN HONOLULU:
---
1. Amuse Wine Bar
1250 Kapiolani Blvd, Floor 2, Honolulu | Tue-Sat 5-10pm
Happy Hour Tue-Sat 5-6pm
Amuse Wine Bar has an Art Deco interior, exactly the style you'd expect to find inside a furniture showroom at the Honolulu Design Center. Sleek self-serve wine machines dominate the space, dispensing 30ml (1oz) pours from over 80 wines. It's the best place for any oenophile, novice, or beginner. Insert your prepaid card, select your red, white or rosé and cheers!
TIP: Try their Amuse Bites including a delectable charcuterie + cheese plate and truffle fries.
2. Appetito Craft Pizza & Wine Bar
150 Kaiulani Ave, Waikiki | Daily 6pm-9pm
Happy Hour Daily 3-6pm
Appetito Craft Pizza & Wine Bar features a perfect balance of old and new world wines across 100 different varietals, along with homemade limoncello, craft beers, and island-themed cocktails. Open-air seating runs the length of this Italian restaurant. Complete your wine experience with a hand-tossed pizza, straight out of the kiawe wood oven.
TIP: Enjoy a glass of Appetito Sangria, both red and white varietals are available.
3. The Bar at Foodland Farms
1450 Ala Moana Blvd, Ala Moana | Daily 12pm-8pm
Happy Hour N/A
The Bar at Foodland Farms is in the center of a supermarket, an unsuspecting place to find one of Honolulu's best wine bars! Whether you need groceries or not is irrelevant, go here just for drinks and a snack to eat. Grab food items from anywhere in the store, like fried chicken from the hot bar, and bring it back to the bar where they'll ring it up so you can enjoy right away.
TIP: The Field Grand Selection Board (pictured) served with dried figs, caper berries, Marcona almonds, mustard and lavosh makes a perfect wine accompaniment.
4. The Tchin! Tchin! Bar
39 N Hotel St, Honolulu | Tue-Sat 5pm-Midnight
Happy Hour N/A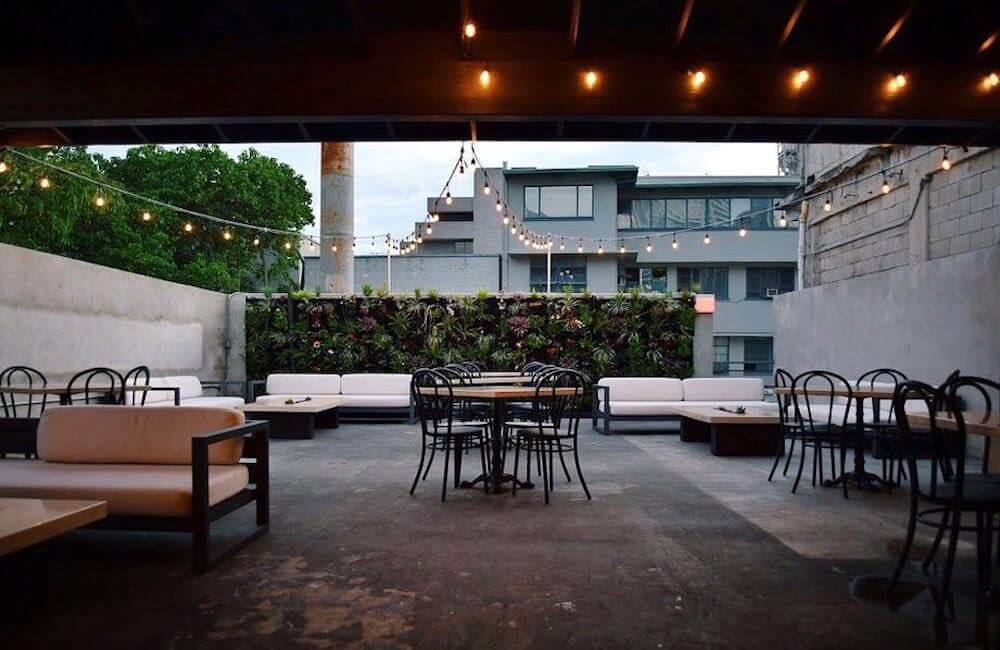 The Tchin! Tchin! Bar is a hip and happening rooftop bar in Chinatown, with an easy-to-miss entrance. Once you find it, head upstairs to the main room with high ceilings and exposed brick walls and out to the lanai (balcony) by the plant wall. On the atmosphere, service and wine selection this place can't be beaten. They also serve artisan cocktails, beers and small plates.
TIP: Try the Flight Menu beverages, a curated selection of four glasses of wine for a good price.
RELATED >> Best Cocktails Bars in Waikiki
---
OAHU DRINKING TOURS
---
---
<i><b>Disclosure:</b> The Hawaii Admirer will earn a small commission for purchases made using the affiliate links on this website. Mahalo [Thank you] for your support!</i>