A must-read for anyone looking to find the best coffee in Waikiki. Because there are better things to do in Hawaii than drink bad coffee.
I'm a self-confessed Australian coffee snob. After all, Starbucks flopped in my home country.
Hawaii's coffee game is strong. It offers mineral-rich volcanic soil and an ideal climate for growing coffee plants. These conditions produce the world-famous Kona coffee bean, cultivated on the Island of Hawaii.
Locals like to use those beans to drink drip coffee (eeek), however, holiday-makers tend to seek out espresso-based beverages. Don't worry, I've got you! Here's where to find the best (non-drip) coffee in Waikiki.
BEST COFFEE IN WAIKIKI:
---
Olive & Oliver
412 Lewers St, Waikiki | Daily 6am-7:30pm
Coffee Beans Seattle, Washington
Olive & Oliver inside The Surfjack Hotel is a combined boutique and espresso bar. It's perfect for grabbing a fresh cup of coffee and browsing cool items reflective of Hawaii's beach culture. They're famous for coffee cup artwork and their beans are supplied by Caffe Vita of Seattle.
Kai Coffee
2424 Kalakaua Ave, Waikiki | Daily 5:30am-10:30pm
2490 Kalakaua Ave, Waikiki | Daily 6-10am
Coffee Beans Kona, Island of Hawaii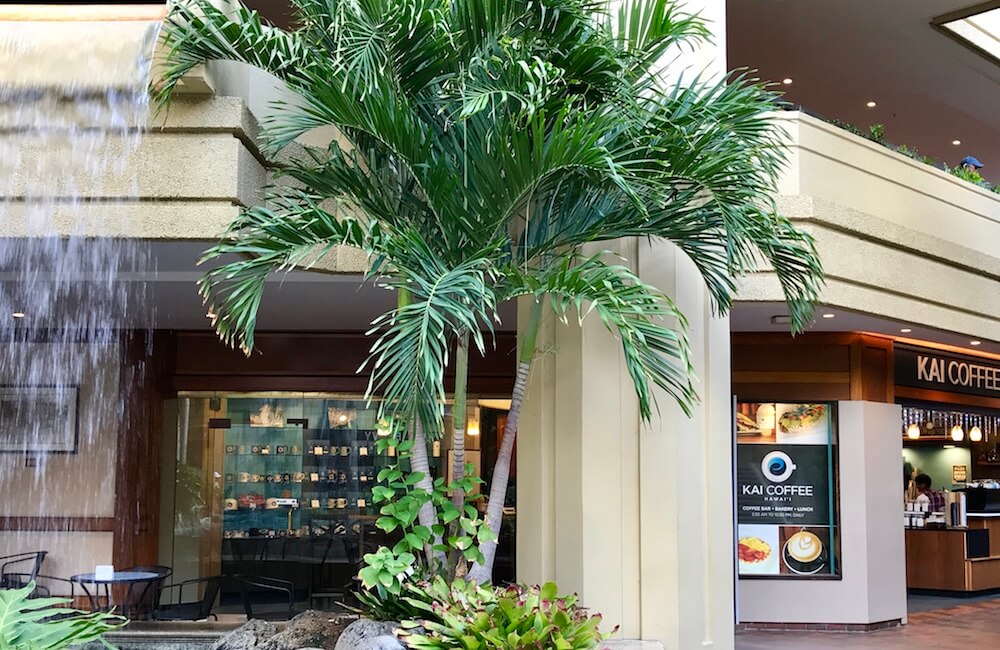 Kai Coffee is a family coffee business at the top of my list for the best coffee in Waikiki. There are two Waikiki shops, one inside the Hyatt Regency atrium (by the waterfall) and one outside Alohilani Resort. They offer Hawaiian artisan roasted beans and serve alternative milk, like mac nut.
Kona Coffee Purveyors
2330 Kalakaua Ave, Waikiki | Daily 6am-10pm
Coffee Beans Kona, Island of Hawaii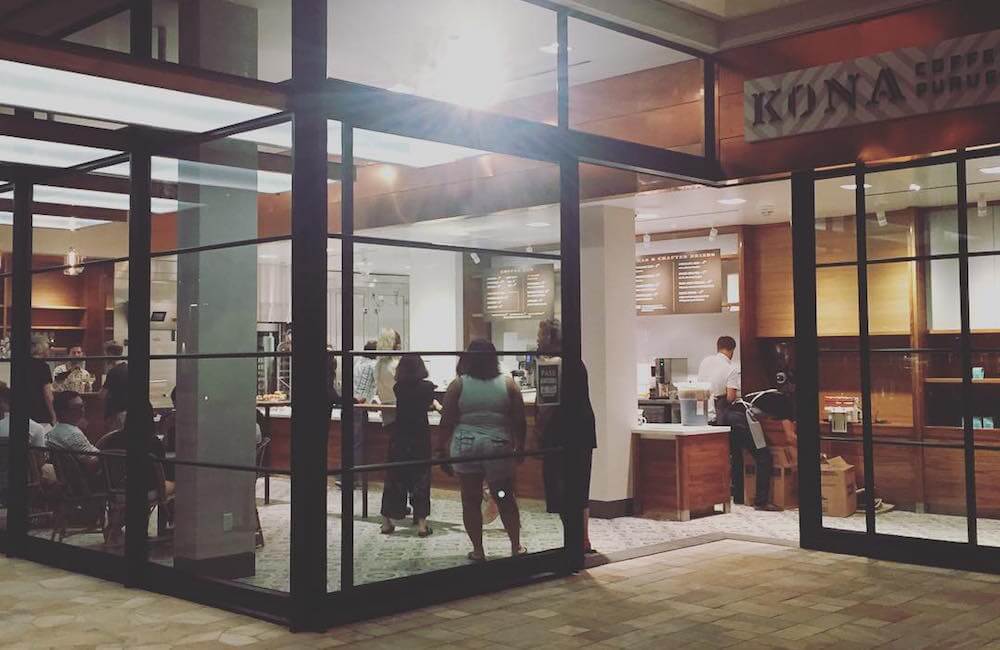 Kona Coffee Purveyors is a premium Kona coffee shop and gourmet patisserie at the Kuhio Ave entrance of International Market Place. They make delicious Pineapple Coconut Almond Croissants, among other things. Their coffee beans are artisan roasted from a high-elevation single Kona estate.
Ars Cafe
3116 Monsarrat Ave, Diamond Head | Mon-Sat 6:30am-6pm; Sun 8am-6pm
Coffee Beans Worldwide
Are Cafe is my local coffee shop! It's close to the Diamond Head crater trail making it a great pre- or post-hike stop for superior coffee, loaded toasts, and homemade gelato. They also host a rotating art show in the cafe. Their high-quality coffee beans are sourced from all over the world.
Hideout Coffee
2299 Kuhio Ave, Waikiki | Daily 7am-5pm
Coffee Beans Portland, Oregon
Hideout Coffee is an awesome little coffee nook up the escalator at The Laylow Hotel. It's retro-styled and serves Stumptown Coffee Roasters caffeine-strong cups (drinks are priced as doubles). Don't leave without checking out the hula doll collection behind the reception desk.
Hawaiian Aroma Caffe
150 Kaiulani Ave, Waikiki | Daily 6am-6pm
2300 Kalakaua Ave, Waikiki | Daily 6am-6pm
1777 Ala Moana Blvd, Waikiki | Daily 6am-4pm
Coffee Beans Worldwide
Hawaiian Aroma Caffe is a local chain of tropical-filled cafe-bars. They have creamy coffee, next-level acai bowls, and specialty waffles. Find them inside OHANA Waikiki East, Waikiki Beachcomber and Ilikai hotels. They roast their Sumatran, Mexican and Guatemalan coffee beans locally.
Knots Coffee Roasters
150 Kapahulu Ave, Waikiki | Daily 6am-8pm
Coffee Beans Kona, Island of Hawaii
Knots Coffee Roasters inside the open-air lobby of Queen Kapiolani Hotel serves Big Island Daylight Mind coffee (by-day) and wine, local beer, and cocktails (by-night). Don't miss Happy Hour daily 2-5pm! They were the first to introduce coffee jelly to Waikiki, with the 'Soft Serve Tokyo Style'.
Island Vintage Coffee
2301 Kalakaua Ave, Waikiki | Daily 6am-11pm
Coffee Beans Kona, Island of Hawaii
Island Vintage Coffee is a popular Hawaii coffee chain throughout the Hawaiian Islands renowned for Kona coffee and healthy acai bowls. Their Royal Grove location in the Royal Hawaiian Center is beautiful. Take a coffee break here surrounded by beautiful palm trees and native plants.
Honolulu Coffee
2365 Kalakaua Ave, Waikiki | Daily 5:30am-10pm
Coffee Beans Kona, Island of Hawaii
Honolulu Coffee is a famous Hawaii coffee chain serving farm-to-cup Kona coffee and a variety of sweet treats. Find it at the entry to the Moana Surfrider Resort. Grab your cup of joe to-go and drink it on the nearby verandah on rocking chairs or under the hotel banyan tree by Waikiki Beach.
Gorilla in the Cafe
2155 Kalakaua Ave, Waikiki | Daily 6:30am-9pm
Coffee Beans Kona, Island of Hawaii
Gorilla in the Cafe is a gourmet coffeehouse opened by the Korean actor Bae Yong Joon. They use 100% Hawaiian coffee beans to support Hawaii's local producers. It's a good option at the west-end of Kalakaua Ave. Their Gorilla Frappe is popular, a frozen mocha blended with banana.
Bills Hawaii
280 Beach Walk, Honolulu | Daily 7am-10pm
Coffee Beans Portland, Oregon
Bills Hawaii is an Australian-inspired restaurant by chef Bill Grainger. It's predominantly a sit-down venue famed for brunch, however, you can head upstairs to their bar and order a 100% certified organic coffee to drink-in or to-go. It's the best coffee in Waikiki, Australian-style.
RELATED >> Waikiki Breakfasts Worth Skipping the Buffet For
---
Island of Hawaii Coffee Tours
---
---
Disclosure: The Hawaii Admirer will earn a small commission for purchases made using the affiliate links on this website. Mahalo [Thank you] for your support!