Polynesian Cultural Center
is one of Hawaii's largest and most popular paid attractions, located on Oahu's North Shore one-hour drive from Waikiki (south) or Ko Olina (west).
There is so much to experience across the park's 42 acres! I thought I'd share my top things to do at the center, to help you get the most out of your visit. But before I get started, let me answer one important question.
What is the Polynesian Cultural Center?
At its core, the Polynesian Cultural Center
is dedicated to preserving the cultural heritage, arts and traditions of Polynesia. Polynesia is defined as the islands in the Pacific Ocean within what's called the "Polynesian Triangle" encompassing approximately thirty-six distinct groups of Polynesian people.
This "Triangle" can be traced from Hawaii in the North (the tip) to Aotearoa (New Zealand) in the West and Rapa Nui (Easter Island) in the East. These island nations, along with Samoa, Tonga and Tahiti, are highlighted at the Polynesian Cultural Center. Fiji is also featured, although it's technically a sub-region of Melanesia.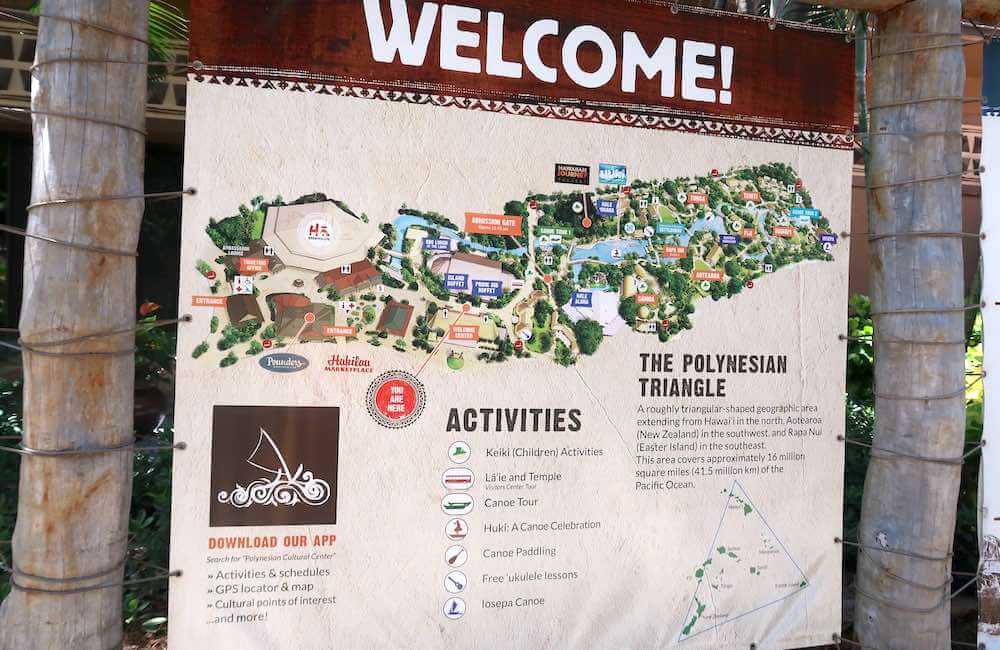 The grounds represent six themed Island Villages, each one has the traditional look and feel of the islands it represents: Hawaii, Tonga, Samoa, Aotearoa (New Zealand), Fiji and Tahiti. Each Island Village has a Cultural Presentation that runs for 20-minutes at set times throughout the day and a variety of hands-on activities. A lagoon weaves down the centre of Polynesian Cultural Center, this is where the Huki show and canoe experiences take place. Dotted around the rest of the park are exhibits, workshops, dinner venues and theatres.
Polynesian Cultural Center
is a non-profit organization, and all revenue is used to support daily operations and the education of students attending Brigham Young University (BYU)-Hawaii. The University borders the Center, and its students are offered free tuition with part of their study program involving part-time work.
TIP: Traveling with kids? Pick up the 'Passport to Polynesia' on arrival. Seek out the passport signs around the park and talk with the locals to get stamps! Don't miss the coupons in the back of the booklet.
POLYNESIAN CULTURAL CENTER ACTIVITIES:
---
1. Eat at Hukilau Marketplace
Hukilau Marketplace is a food lovers paradise! It's a dining and shopping experience outside the entrance to the Polynesian Cultural Center
. With a mix of bricks-and-mortar eateries and food trucks, it's the ideal place to fuel up before touring the attraction. Try Tita's Grill for spicy garlic shrimp or Kiwi Style Fish 'n Chips for fish and chips with hard-to-find-in-Hawaii chicken salt and potato fritters. Don't miss Tutu's Sweet Shop, a lolly and candy wonderland.
2. Watch the Huki show
Huki: A Canoe Celebration is a special performance at the Polynesian Cultural Center
from 2:30-3pm daily on the lagoon. Seats along the waters edge are first-come-first-served, early for a prime position in the shade. It's an entertaining 30-minute show with costumed performers on water-floats meandering up and down the lagoon sharing tales about Polynesian exploration, the town of Laie and how the Polynesian Cultural Center
came to be. The dancing is great and the music is awesome!
3. Hydrate with a Fresh Coconut
It can get extremely hot walking around Polynesian Cultural Center
! Aside from the usual precautions (cool attire, a hat and sunscreen), you'll need to keep hydrated. Like a mirage in the desert, the Samoa Village offers up Fresh Coconuts for sale! That first sip of refreshing coconut juice was EVERYTHING. Once it's finished, return and they'll cut it open so you can enjoy the coconut meat. Add a sprinkle of Li Hing Mui, Hawaii's much-loved sweet and salty powder. If Fresh Coconuts aren't your thing, go for a Pineapple Smoothie served in a pineapple instead. You can find these around the park and at the Huki show on a floating canoe.
4. Get to Know Hawaii
Allocate a decent amount of time to explore Hawaii's indigenous culture in the Hawaiian Village at the far end of the property. Learn about Hawaii's unique culture during the Presentation where locals "talk story" and introduce you to Hawaiian dance, music and song. There's a purpose-built hula mound where visitors can participate in hula lessons. Play ancient Hawaiian "board" games, take a class in lauhala weaving or watch how poi is made.
5. Laugh Out Loud in Tonga
The Kingdom of Tonga is the last remaining monarchy in Polynesia ruled by a King and you can see pictures of Tonga's royalty hanging inside the Queens Summer House. Known as the "Friendly Islands" the Tonga Presentation provides for a good belly laugh, it's a hilarious show where audience volunteers are turned into dynamic drummers. For the athletically inclined, this is the place to test your spear-throwing skills.
6. Eye the Samoan Climber
Samoa serves up another laugh-a-lot show typically headlined by local celebrity Samoan "Kap". Look up during the Presentation as a fit young man climbs a 40 foot (12 metre) coconut tree with ease! Up your survival skills by learning how to start a fire using two sticks and weave the cutest-ever fish using coconut leaves. Don't leave without peering inside the domes, they're built without nails in a way that creates natural air-conditioning! Kap is also the resident artist, check out his work on display in the Kap Culture & Art Gallery.
7. Play Games in Aotearoa
The Haka, a Maori war dance, is the highlight of the Aotearoa Presentation. But it keeps getting better with many games to play in The Land of the Long White Cloud, including double-long handled Poi Maori (ball on a string) and Maori stick game Titi-torea, both requiring keen concentration and hand-eye coordination. The nearby Carver's Workshop is popular with the kids, they get to make their own fish hook replica necklace.
8. Renew Your Vows in Tahiti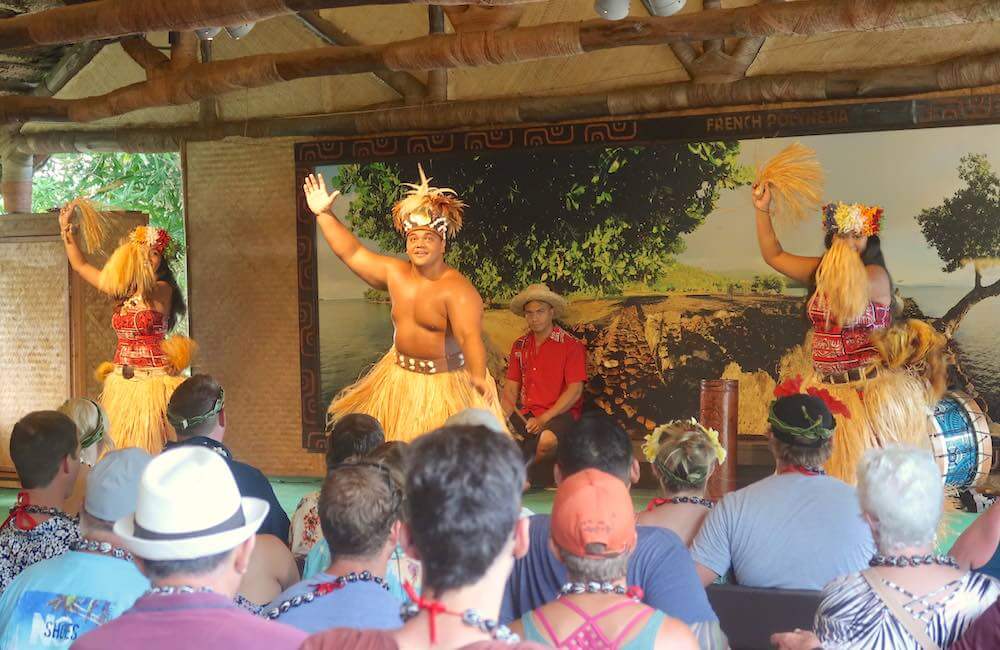 Love is always in the air over in the Tahiti Village. At 3:30pm daily you can witness a traditional Tahitian wedding ceremony and even join in to renew your own vows! If your visit is timed right you'll get to sample melt-in-your-mouth coconut bread and experience pole fishing off the little pier. Learn about Tahitian pearls, full-body tattoos and how to swing your hips Tahitian style.
9. Jump Into a Canoe
The Polynesian Cultural Center
lagoon serves as center stage for the Huki show but it's also home to two water activities. Depending on energy levels, take a leisurely sightseeing Canoe Tour or partake in Canoe Paddling. Canoe Paddling launches from the Tonga Village, sadly I didn't get a chance to do this activity but I did see families out on the water and had major FOMO.
10. Enjoy Alii Luau Buffet & Ha Breath of Life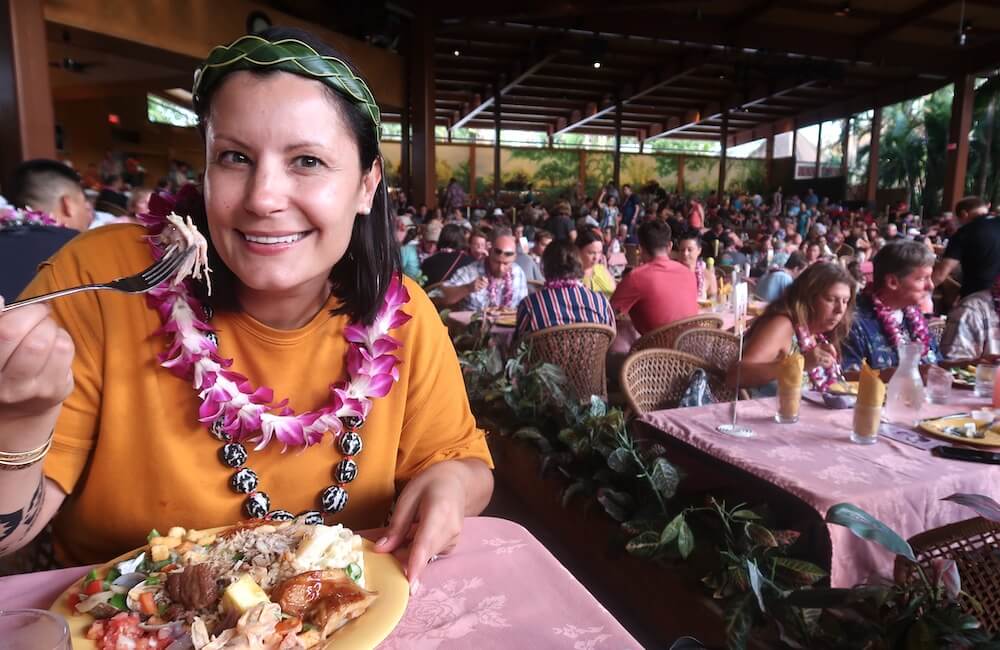 The majority of Polynesian Cultural Center
Packages include the Alii Luau Buffet. When you are feeding hundreds of people at a luau it's hard to perfect the food, but they've has done it! There was a wide selection of cuisine and it was fresh and delicious. I piled my plate high and enjoyed every bite! FYI there is no alcohol. Sorry folks, that means no Mai Tais at this luau but Mocktails served in a Pineapple abound!
The Alii Luau Buffet includes a show that runs during the meal. It starts off with Hawaiian dance, music, and song and then proceeds into a special performance titled Alii Luau Onipaa "A Celebration of Queen Liliuokalani". It's a tribute to Hawaii's last ruling monarch and only sovereign Queen. The period costumes and storytelling give great insight into Hawaii's history.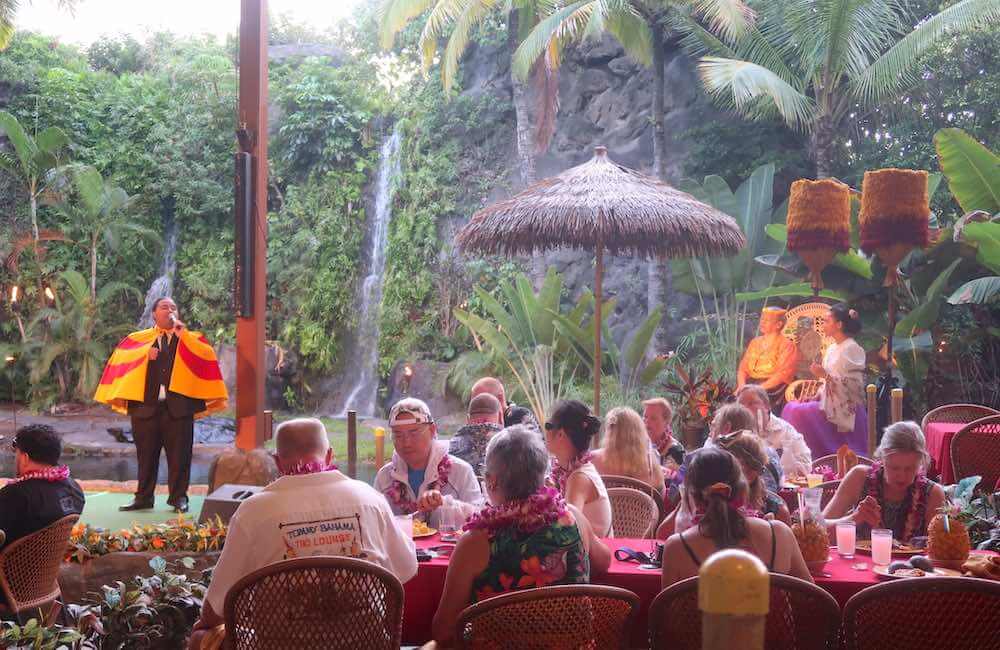 After dinner here's a little bit of extra time to explore Hukilau Marketplace, visit the Polynesian Football Hall of Fame, or take a Free Ukulele Lesson before the Ha Breath of Life evening show begins in the Pacific Theater at 7:30pm.
Ha Breath of Life is a spectacular show incorporating over 100 performers, animation, lighting effects, surround sound and even fire! A touching story about Mana, from birth into adulthood, and his beloved Lani. It's well worth watching it but if you are staying for the show it's a long day! I highly recommend including return transportation with your Polynesian Cultural Center
tickets, that way no one has to drive back to your accommodation at 9:30pm (in the dark and no doubt tired).
Tickets Comparison
Package
Adult
Times
Island of Polynesia
Adult
$69.95
Child
$55.96
12:45-9pm
Exclusive Gateway Buffet Package
Adult
$139.95
Child
$111.96
12:45-9pm
Exclusive Alii Luau Package
Adult
$169.95
Child
$135.96
12:45-9pm
Super Ambassador Luau Package
Adult
$242.95
Child
$194.36
12:45-9pm
A FEW THINGS TO CONSIDER:
Do you want to explore on your own or take a guided tour? The Super Ambassador Luau Package is fully guided.
Transportation can be purchased separately. When booking online, you can add your transportation option during check-out. I recommend booking this option UNLESS you don't want to stay for the Ha Breath of Life evening show OR you plan on staying on the North Shore, in which case I would self-drive (park opens at 12 Noon and reminder the Huki show is 2:30-3pm). The Courtyard by Marriott Oahu North Shore is conveniently located next door to the Polynesian Cultural Center and is a great home base hotel for a few days of exploration on Oahu's North Shore.
If you've already been to a Luau or have another one booked during your trip, you can choose the Gateway Buffet Package option instead.
TIP: Download the Polynesian Cultural Center App beforehand to get familiar with the layout and the Cultural Presentation times. I didn't rate the Hawaiian Journey cinema experience so feel free to skip that one, however, it did serve as a lovely air-conditioned break from the outside heat!
RELATED >> Hawaii Activities, Pre-Book or Wait?
---
Polynesian Cultural Center Tours
---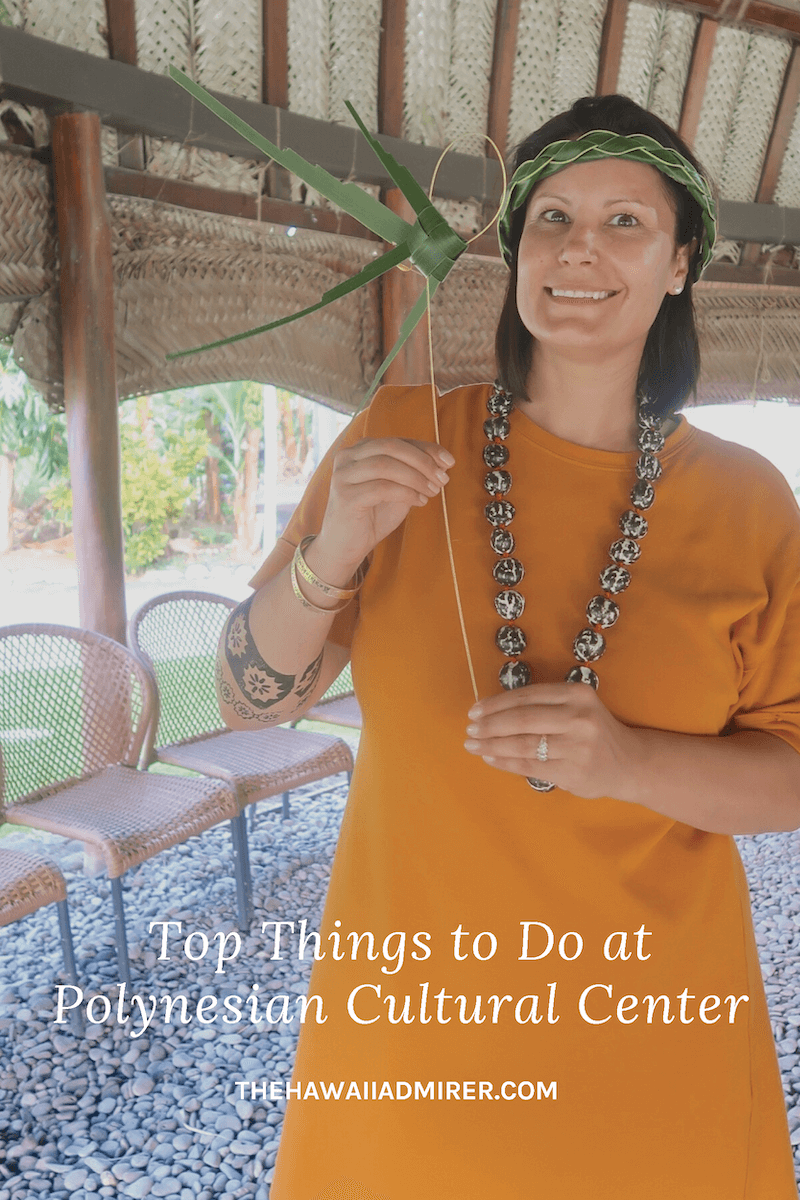 ---
<i><b>Disclosure:</b> The Hawaii Admirer will earn a small commission for purchases made using the affiliate links on this website. Mahalo [Thank you] for your support!</i>