If you're looking to indulge in Hawaii cocktails these Waikiki bars are a great place to start.
Every bar in Hawaii has one thing in common, a drinks menu with irresistible liquid works-of-art.
Classic cocktails like the Mai Tai, Blue Hawaii and Lava Flow are offered up, alongside tantalizing modern concoctions usually incorporating coconut, pineapple, or lilikoi (passionfruit) flavors.
With drink titles like an Endless Summer, Hawaiian Love Affair and Tropical Sensation, you won't be able to resist a drink. So, pull-up-a-seat at any one of these great Waikiki bars and let the Hawaii cocktails and dreams flow.
BEST COCKTAIL BARS IN WAIKIKI:
---
Deck
150 Kapahulu Ave, Waikiki | Mon-Thu 11am-11pm; Fri-Sat 11am-Midnight; Sun 11am-10pm
Happy Hour Daily 4-6pm; 9pm-Close
Live Music Daily times vary
Deck is an expansive open-air restaurant and bar, with one of the finest full views of Diamond Head. It's a relaxed setting on the third floor of the Queen Kapiolani Hotel, beside the pool. Different days bring different drink specials! Mai Tai Mondays $8.50 Mai Tais (usually $16), Whisky Wednesdays American Whisky Flights for $30, and Sparking Saturdays half-price Mimosas until lunch. But no matter when you visit you'll still get that 'wow' view.
TIP: Enjoy a Sunday Brunch Buffet 11am-3pm for $55pp ($35 for kids 4-12), with cocktail specials.
Duke's Waikiki
2335 Kalakaua Ave, Waikiki | Daily 11am-Midnight
Happy Hour Daily 3-5pm
Live Music Daily 4-6pm; 9:30pm-Midnight
Duke's Waikiki is an iconic 'barefoot bar' on the edge of the sand at Waikiki Beach. It's named in honor of the Native Hawaiian surf legend, Duke Kahanamoku, and houses a raft of his memorabilia. Try their signature Duke's Mai Tai, a Lava Flow, or a Tropical Itch (comes with a back scratcher). Duke's buffets are great value ($18pp breakfast $19.50pp lunch). They're also famous for Hula Pie, a chocolate cookie crust dessert with mac nut ice cream, hot fudge, and whipped cream.
TIP: Join Henry Kapono, an award-winning singer and songwriter, for 'Duke's on Sunday' sessions 4-6pm.
House Without A Key
2199 Kalia Rd, Waikiki | Daily 7am-9pm
Happy Hour Daily at sunset
Live Music Daily 5:30-8:30pm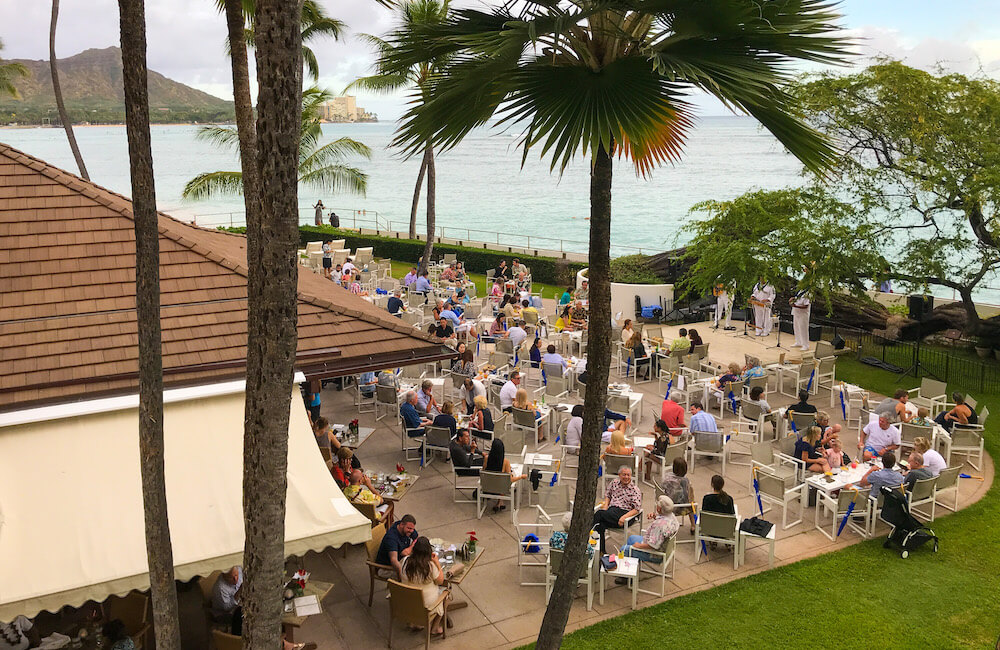 House Without A Key is a gorgeous oceanside restaurant at one of Waikiki's most distinguished five-star hotels, Halekulani. They play Hawaiian music nightly, paired with hula dancing by former winners of Miss Hawaii. It's an absolute treat to sit and relax on the alfresco terrace, especially at sunset, enjoying these performers. You can't go past the Coconut Shrimp for a pupu (appetizer) or a slice of Halekulani's Coconut Cake.
TIP: I'm a fan of their Frozen Daiquiris, choose from Strawberry, Mango, Pineapple or Lilikoi (Passionfruit).
Mai Tai Bar
2259 Kalakaua Ave, Waikiki | Daily 10am-11:30pm
Happy Hour N/A
Live Music Daily at sunset
Mai Tai Bar is found beachfront at the Royal Hawaiian Resort, aka Waikiki's 'Pink Palace'. The first Mai Tai in Hawaii was served here in 1953, using the original 'Trader Vic' recipe. It's an iconic venue to enjoy an umbrella drink or a tropical cocktail served in a freshly cut Maui Gold pineapple. If you want to splash out, you can book your own private cabana for an intimate social gathering of up to 20 people.
TIP: Look closely at the prices, once I ordered two Alii (King) Mai Tais without realizing that they were $35 each.
O Bar
2490 Kalakaua Ave, Waikiki | Daily 11am-10pm
Happy Hour Daily 2-5pm
Live Music Daily 6-9pm
O Bar is the name of the lobby lounge at Alohilani Resort, it's a hidden gem of Waikiki. The highlight is a three-story Oceanarium that runs the length of the bar area. It's a 280,000-gallon tank brimming with marine life, including Hawaii's beloved State fish the Humuhumunukunukuapuaa, and the occasional fish-feeding scuba diver. It's a spacious low-key venue with comfortable seating, a delicious blend of cocktails and yummy flatbreads.
TIP: Check out the Bartender Cocktail Special for $10 (usually $15) during Happy Hour everyday from 2-5pm.
RumFire
2255 Kalakaua Ave, Waikiki | Sun-Thurs 11:30am-Midnight; Fri-Sat Noon-1:30am
Happy Hour Daily 3-5pm
Live Music Daily 5-8pm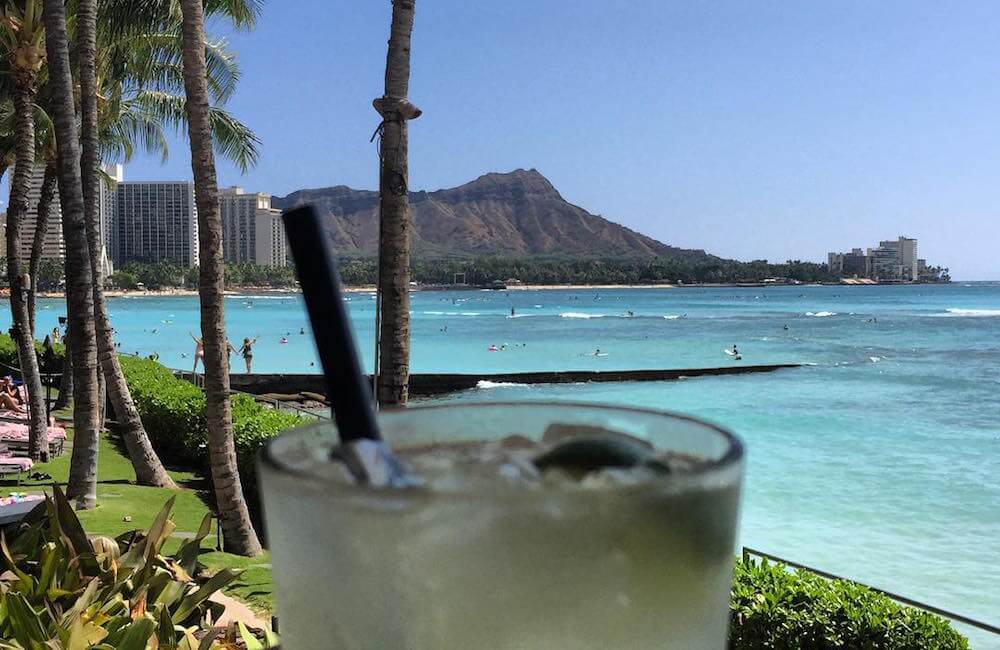 RumFire is the perfect go-to waterfront bar in central Waikiki, especially for sunset drinks. They combine epic oceanfront views with Liquid Aloha cocktails made to share between two, Sangria Carafes and a long list of wines and local beers. They also offer an impressive list of Cruzan Single Barrel Rum cocktails. The food menu focuses on small plates and family-style meals, try the Poke, Fish Tacos or a classic Burger and Fries.
TIP: Take High Tea to the next level with 'Spiked Tea' served daily from 1-4pm. It includes 1 spiked tea cocktail, 2 sliders, 1 dried fruit and cream cheese scone served with jam and butter, and a dessert of your choice.
SKY Waikiki
2270 Kalakaua Ave, Waikiki | Sun-Thu 5-11pm; Fri-Sat 5pm-Midnight
Happy Hour Daily 5-9pm (Main Lounge only)
Live Music Thu-Sat 6-9pm
SKY Waikiki is a rooftop bar and restaurant 19 Floors above Kalakaua Ave, where cocktails come with a panoramic view of Diamond Head and the Pacific Ocean. Warning, it can get windy up there! Add this venue to your list for pre-dinner drinks, accompanied by a light snack of Garlic and Truffle Butter Fries. Alternatively, go late on a Friday or Saturday night for the nightclub experience (you'll need to dress up for this one).
TIP: If you want table seating pre-book dinner reservations on OpenTable. Make sure you specify you'd like to be seated on the balcony, otherwise you'll probably end up in the Main Lounge with no view.
The Hideout
2299 Kuhio Ave, Waikiki | Sun-Thu 5pm-Midnight; Fri-Sat 5pm-1am
Happy Hour Daily 4:30-6:30pm
Live Music Daily from 7pm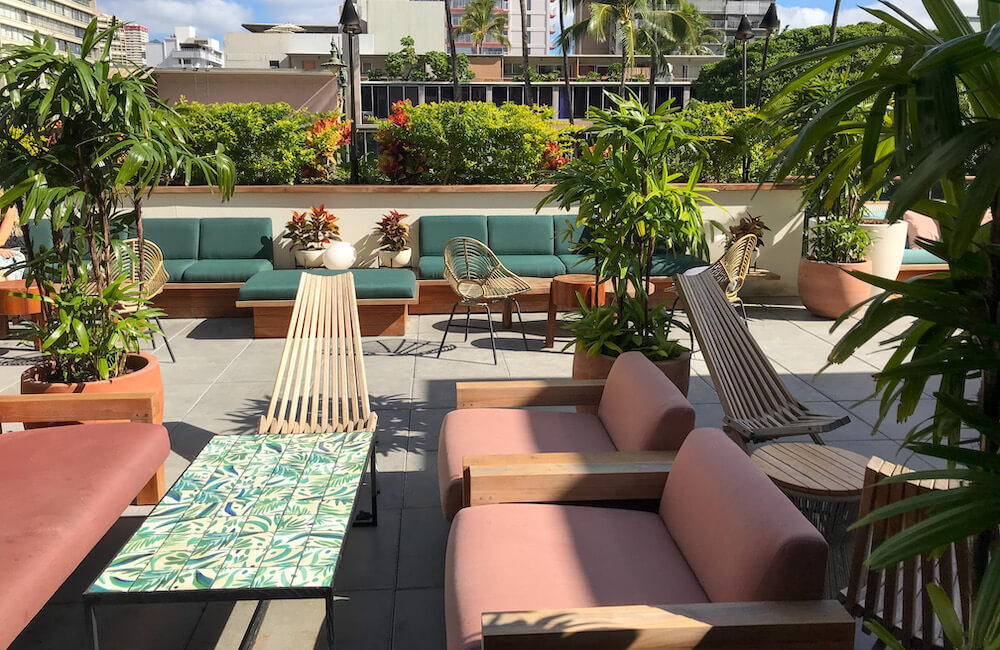 The Hideout is my favorite rooftop bar in Waikiki, an urban oasis with a hipster vibe hidden in The Laylow Hotel. It's a popular venue for brunch, start the day with a P.O.G. Mimosa (with passionfruit, orange, and guava juice) or bacon-adorned Hideout Bloody Mary. After dark, guests can enjoy sophisticated artisan cocktails under tiki-torch light. The nightly entertainment sets this place apart with Hawaii's finest live music and DJs.
TIP: There's a great coffee bar here too, if you're strolling along Kuhio Ave and need a pick me up!
Tommy Bahama
298 Beach Walk, Waikiki | Daily 11am-11pm
Happy Hour Daily 2-5pm
Live Music Daily 6-9pm
Tommy Bahama is a tri-level restaurant, bar and store that 'lives the island life' with the decor, food, and drinks reflective of a tropical vibe. The best seats are in the toes-in-the-sand rooftop bar area. This is a top spot to hang-out and socialize over cocktails, especially Pina Coladas. Start with Scallop Sliders, sample main dishes with Hawaii flair like Kona Coffee Crusted Ribeye and Mac Nut Crusted Fresh Catch, and save room for dessert!
TIP: This is a large and roomy restaurant and rooftop bar making it a good choice for group reservations.
Tiki's Grill & Bar
2570 Kalakaua Ave, Waikiki | Daily 7am-Midnight
Happy Hour Daily 2-5pm
Live Music Daily check schedule
Tiki's Grill & Bar is a Hawaii-themed establishment situated on a beautiful lanai (balcony) at the Aston Waikiki Beach Hotel. It has a laidback vibe and super-fun cocktails served in ceramic tiki mugs, souvenir coconuts or tiki glass, all yours to keep! The food is tasty, from famous Coconut Shrimp to a Poi Pounder Burger served on a purple bread bun, and signature Guava Glazed Baby Back Ribs. End with Tiki's Six-Layer Chocolate Cake, trust me!
TIP: Ask the server about joining the Ohana Club, it'll give you access to Daily Drink Specials.
The Myna Bird
2230 Kalakaua Ave, Waikiki | Daily 3pm-Midnight
Happy Hour 3-6pm
Live Music N/A
The Myna Bird is a cute tiki bar inside The Street by Michael Mina, a gourmet food court at the Kuhio Ave entrance of the International Market Place. Visit this watering hole to mingle with some of the best mixologists in town and sip on quirky Hawaii-inspired cocktails. Most drinks are presented in tiki-inspired ceramics. I recommend sharing the 'Passionfruit Punch' bowl, it's delivered with a creative fiery display (get the camera ready).
TIP: Wander upstairs to the Grand Lanai (Level 3) of the International Market Place to StripSteak, also by Michael Mina. It's home to the Shaka Sour, the cocktail featured as the hero image of this post. Enjoy ?
TIP: You have to be over 21 years old to drink alcohol in Hawaii, USA. An Australian standard drink is 10g of alcohol, whereas an American standard drink is around 14g of alcohol. Hawaii bartenders use the free pour method, the amount of alcohol they add to each drink is based on their own judgment rather than a measuring tool. I've found this equates to much stronger drinks in Hawaii than in Australia, so please be careful.
RELATED >> Winning Wine Bars in Honolulu
---
OAHU BAR TOURS
---
<i><b>Disclosure:</b> The Hawaii Admirer will earn a small commission for purchases made using the affiliate links on this website. Mahalo [Thank you] for your support!</i>